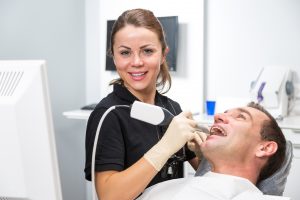 Are you searching for a new dentist in the Arlington area but are not quite sure what you and your family need? Many people worry that they cannot find that right combination of expertise, modern technology and compassion because they're missing in many healthcare providers. Not so with Dr. Douglas Baldwin of Foundation Dental Solutions. He could well be your new dentist in the 76016 area.
The Qualifications of a Quality Dentist
The best dentist for you and your loved ones must possess a wide range of technical skills and extensive educational credentials, including continuing education courses and memberships in professional associations such as the American Dental Association. Read up on your prospective dentist by viewing his or her website, and look at Healthgrades.com, an online, patient review site. See what actual patients are saying about a dentist you are considering.
For example, Dr. Baldwin has a fellowship in implant dentistry from the California Implant Institute. If you are contemplating tooth replacement with a dental implant, Dr. Baldwin is fully qualified to determine if you can receive one of these marvelous prosthetics. He can actually take you through the restorative treatment at his office.
The Services the Dentist Offers
Modern dentists make sure they offer a wide range of preventive, restorative and cosmetic dental treatments so they can adequately care for the needs of patients of all ages and walks of life. It's more than just convenient when Mom and Dad can take Junior to the same dental care provider. Family dentistry helps engender a relationship of trust and friendship between patients and their dentists.
So, when considering a new dentist, look for these services:
Preventive care: exams, digital X-rays, cleanings, sealants, fluoride treatments, mouthguards for snoring, bruxism and athletics
Restorative care: tooth-colored fillings, porcelain crowns, dental implants and implant supported dentures, conventional bridgework and dentures, root canal therapy, tooth extractions (including wisdom teeth)
Cosmetic care: teeth whitening, porcelain veneers, composite resin bonding, Invisalign clear braces
Additionally, a quality dentist will deliver sedation options for pain control and to ease the anxious patient. Dr. Baldwin is fully qualified to offer nitrous oxide (laughing gas), oral conscious sedation and fully-monitored IV sedation.
Finally, learn your prospective dentist's policy on emergency care. Are staff members readily available to give first aid advice and to book same day appointments? Your new dentist should be prompt, gentle and competent in treating a wide range of pressing oral health problems such as knocked out teeth and dental abscesses.
The Office Atmosphere
The best dentist in Arlington has a warm and welcoming practice staffed by people who really care about you as a person. They should listen well, respect your time and deliver exceptional dental services in a modern, bright and friendly office. The latest technology is readily available and so is individualized treatment. At Foundation Dental Solutions, Dr. Baldwin and his team strive each and every day to deliver the finest dentistry in Arlington.
Give Us a Try
Do your research, and then contact Foundation Dental Solutions. You may ask, "Can I found a great dentist near me?" The answer is come talk to us. We'd love to be your new dental care provider.