Root Canal Therapy – Arlington, TX
Repairing Damage While Restoring Smiles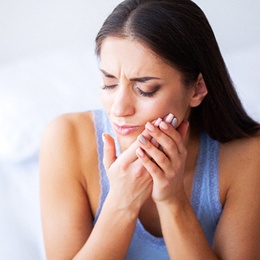 Root canal therapy in Arlington, TX sounds like a painful and cringe-worthy process, especially if you've spent any amount of time listening to or reading much of the misinformation that is available. While it's natural to be a bit nervous prior to any oral surgery, Dr. Baldwin and his team at Foundation Dental Solutions want you to rest easy knowing that the infection causing all the immense pain you're experiencing will be eliminated with a root canal. This safe and effective procedure will give you the relief you need while saving your natural tooth and, in turn, your oral health. To learn more about the process or to schedule an appointment, contact us today.
What is a Root Canal?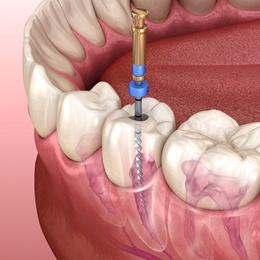 A root canal is a common oral procedure that is often recommended when the innermost layer of the tooth (the pulp) becomes infected. Causing severe pain and sensitivity, a root canal must be performed to save the natural tooth. If the tooth becomes too damaged or decayed, the only option is for Dr. Baldwin to extract it and discuss ways in which the tooth can be replaced.
To avoid the need for tooth replacement, Dr. Baldwin can provide root canal therapy and remove the infected pulp before filling in the tooth with composite resin and placing a custom dental care over the weakened tooth.
Why Do I Need a Root Canal?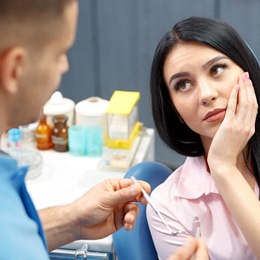 The most common reasons you might need a root canal include:
Severe, extreme pain in and around a particular tooth
Swelling near the face, neck, or head
Pimple-like sores near the infected tooth
Difficulty chewing
Increased sensitivity to hot or cold foods/beverages
Any of these symptoms or signs should have you calling Dr. Baldwin as soon as possible. It's always better to treat the problem before it worsens, as this can do more damage to your oral health. Once he has examined your smile to determine if a root canal is the right form of treatment for your case, Dr. Baldwin will formulate a personalized treatment plan to repair and restore your smile.
Recovering from a Root Canal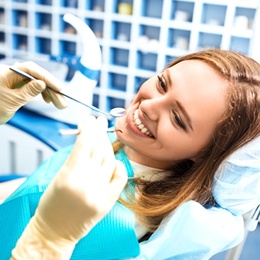 Once your root canal is complete, there are several things you will need to remember during the recovery process. For several weeks, you will need to adhere to certain instructions so that your tooth will heal quickly and correctly.
Some of the important steps you'll need to follow include:
If Dr. Baldwin prescribes an antibiotic or pain medication, make sure to take it as instructed.
Avoid chewing on that side of your mouth, at least until your permanent dental crown is in place.
Eat soft foods in the initial phase of your recovery, but nothing too hot or cold.
Get plenty of rest.
Don't neglect your oral hygiene routine but be gentle around your surgical site.
Maintain regular dental appointments with Dr. Baldwin so that he can check the tooth and ensure it is healing properly.
Root Canal Frequently Asked Questions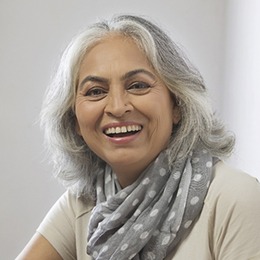 When preparing for a root canal, you want as much information as possible to feel confident and comfortable about your upcoming procedure. While most questions will be quickly answered by Dr. Baldwin, you may discover in your research that there are other inquiries you would appreciate clarification on before undergoing this type of treatment. In an effort to provide complete transparency, he and his team at Foundation Dental Solutions have compiled a list of frequently asked questions for you to review. If you have any additional concerns or questions, please do not hesitate to contact us.
Why not just remove the tooth?
It is always the goal of the dentist to help patients keep their natural teeth for as long as possible. The teeth you were born with are the strongest you'll ever have, allowing you to perform daily oral functions with ease. From chewing to biting to even talking, natural teeth are far more beneficial than any artificial restoration you could ever receive.
Only in the most dire circumstances when a tooth is incapable of being saved will Dr. Baldwin consider tooth extraction.
What are the benefits of having a root canal?
A root canal allows for you to keep your natural tooth instead of having it extracted. While it will be necessary to have a dental crown placed over the tooth for added protection, the structure underneath will strengthen over time and continue to stimulate the jawbone, preventing possible facial sagging or worsening dental problems.
This type of procedure is usually covered, in part, by your dental insurance. Depending on which category this type of procedure will fall under (i.e. minor or major), your insurer could be responsible for paying anywhere between 50-70% of the overall cost.
The actual procedure is completely painless. Dr. Baldwin will administer anesthesia to numb the area and make you comfortable. You will feel nothing as he works to clean out the infected tooth.
Your customized dental crown will be matched to the color, size, and shape of your natural tooth, so you won't have to worry about it standing out among the rest of your smile. These restorations are designed to blend in seamlessly.
What is the success rate for root canals?
Typically, you will find that most root canals have a success rate of 95% or higher. A root canal will rarely fail or cause you to experience problems afterward, but you should make sure that you are comfortable with the individual performing the procedure. Fortunately, Dr. Baldwin is skilled at thoroughly cleaning out the various canals within a tooth, effectively removing infected/decayed areas, thus, eliminating the cause of pain.
Should I be concerned about any potential risks?
Root canal therapy is just like any other type of oral procedure. There are risks involved but the likeliness that anything will happen is rare. However, to better prepare yourself, some of the most common risks include:
An ineffective seal that allows bacteria to re-enter the tooth
Improper cleaning of the tooth's canals
The tooth's filling becomes worn and ineffective
The dental crown that is placed over the tooth is not properly cemented, creating an opening for bacteria to enter and cause the tooth to become infected again
The root of the infected tooth develops a crack or fracture