Tooth Extractions – Arlington, TX
Removing Decayed or Damaged Teeth to Save Smiles
At Foundation Dental Solutions, Dr. Baldwin and our team want you to keep your natural, healthy teeth as long as possible. However, when severe decay or damage occurs, the only viable solution to prevent worsening oral health conditions may be to perform tooth extractions in Arlington. Although it may not sound like the most ideal scenario, you can feel confident that not only is your dentist making the best decision for your oral health, but we're also dedicated to keeping you safe and comfortable throughout the procedure. Contact us to learn more about tooth removal.
Reasons Why Tooth Extractions Are Necessary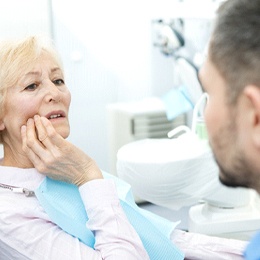 The only way to know if you need to have a tooth removed is to schedule an appointment with your dentist. It is during this visit that he will examine your smile and determine if one or more of your teeth requires extraction. Some of the most common reasons include:
Wisdom teeth are impacted and causing alignment and painful issues with healthy erupted teeth
You have a dental emergency in Arlington such as severe decay or facial trauma that's causing significant problems and cannot be remedied with a root canal
You require orthodontic treatment but are experiencing overcrowding
You are preparing for a customized denture but need to have a tooth removed to ensure optimal placement and comfort
The Process of Removing a Tooth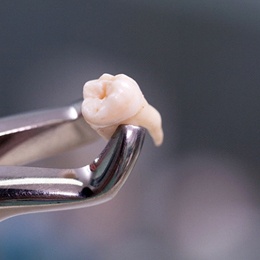 The tooth extraction process might sound daunting and scary, but you can breathe easy knowing the surgical procedure will be anything but painful. Once it is decided that you will need to have one or more teeth removed, we will administer local anesthesia to numb your mouth. You can also inquire about sedation dentistry if needed.
Your emergency dentist in Arlington will then use dental forceps and what is referred to as an elevator to remove the tooth. The elevator will lift it out of its socket while the forceps will grab onto the tooth and move it back and forth. This will continue until the tooth completely detaches from any ligaments and connective tissue.
If you have a tooth that is impacted, a small incision will be made in your gums to expose the tooth. For an easier removal process, Dr. Baldwin may decide to take out the tooth in pieces to avoid potentially damaging soft oral tissues.
Tooth Extraction Aftercare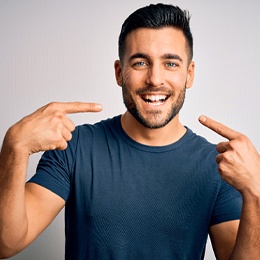 Taking proper care of your surgical site once your tooth extraction is complete is essential for swift and successful healing. You can expect your dentist in Arlington to provide you with detailed instructions regarding the aftercare process, some of which will include:
Getting plenty of rest
Taking any medications provided by our team to minimize dental pain or soreness
Rinse with warm salt water every few hours to flush out bacteria and minimize reinfection
Maintain your oral hygiene routine but be careful as to how you brush around your surgical sites
Do not use a straw or rinse vigorously, as you don't want to dislodge the blood clot
Do not smoke or use tobacco products
Once you are fully healed from your oral surgery, we will begin discussions as to how you plan to replace your missing tooth or teeth. Unless it is a wisdom tooth, it needs to be replaced. You can choose between dental bridges, dentures, or dental implants. For a stronger, more stable, and fully functional prosthetic that lasts longer, you cannot go wrong with dental implants.
Understanding the Cost of Tooth Extractions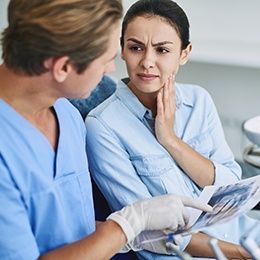 Patients who learn they need to have a tooth removed often have many questions about the procedure. This is normal, which is why Dr. Baldwin believes in providing clear and concise information to individuals who are nervous or unsure about treatment, especially the cost of tooth extractions in Arlington. Although no two cases are the same, there are factors we must consider before moving to the next step of oral surgery. Below is a breakdown of what is reviewed by our team in order to develop a thorough cost estimate for your care.
Factors That Can Affect Tooth Extraction Cost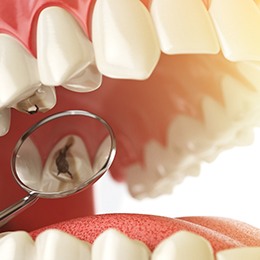 When meeting with your emergency dentist in Arlington, you'll find that he will review your oral anatomy to determine the following factors:
The location of the tooth that must be extracted
The type of tooth that needs to be removed
The number of teeth that require removal
Whether you will require a simple or surgical procedure
The type of restoration you will need once the tooth is removed (i.e., dental bridge, partial or full denture, or dental implant)
Does Dental Insurance Cover Tooth Extractions?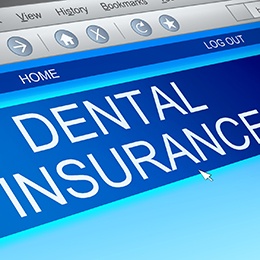 Tooth extractions are typically included in most dental insurance plans as a major restorative service. This is the case for all plans, so it's essential that you review yours beforehand. If you need assistance, Dr. Baldwin's team is here to go over your policy and identify ways to maximize your benefits. If your plan does incorporate it as a qualifying service, there is a good chance they will agree to cover up to 50% of the total cost. However, this is dependent on whether you've met your deductible and how much of your existing annual maximum remains available.
Other Options for Making Tooth Extractions Affordable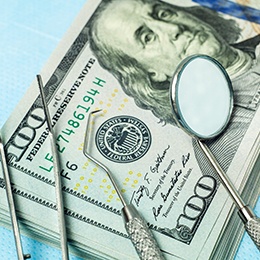 Because not everyone is insured, Dr. Baldwin is also pleased to make tooth extractions more affordable for those without insurance as well as those who need assistance paying for complex dental treatments.
With CareCredit and Lending Club, individuals can enroll in a plan that offers low- and no-interest options. Based on the timeframe of your choosing, you can better manage your budget by splitting up the cost of your care into monthly payments, making it easier for you to move forward with treatment without the additional worry or concern of the cost.
Tooth Extraction FAQs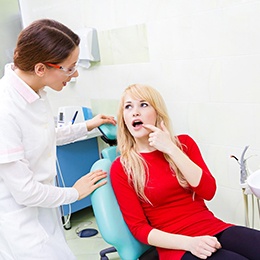 When tooth extractions in Arlington are a last resort, you can count on Dr. Baldwin and his team to implement safety standards to ensure your procedure is swift and successful. Although the reality of needing to have one or more teeth removed may not seem inviting, we aim to help our patients feel comfortable and confident no matter the type of service required. Below you will find a list of frequently asked questions about tooth extractions. If you do not see yours listed, please contact our office to schedule an appointment.
Does Getting a Tooth Extracted Hurt?
The good news is that you will receive local anesthesia before Dr. Baldwin begins to remove your tooth. This will numb your mouth and keep you from feeling any pain throughout the procedure. Once the tooth is extracted and the effects from the anesthesia wear off, it is normal to experience some discomfort and soreness. You can remedy these sensations with the help of over-the-counter pain relievers or antibiotics provided to you by our dental team. You can also use a cold compress to minimize any swelling. The pain should dissipate over time, but if your discomfort worsens, or you believe you might have an infection, call our office right away.
What Are My Options for Replacing a Missing Tooth?
Unless you are having your wisdom teeth removed, you always need to have your teeth replaced. The reason is that the jawbone will deteriorate over time, causing problems with your facial aesthetic and overall oral health. You and your dentist in Arlington can discuss your options for tooth replacement, some of which will include a dental bridge, denture, or dental implant. Ultimately, the decision will be based on the status of your oral and overall health, your jawbone density, and your budget.
How Long After a Tooth Extraction Can I Get Dentures?
If you are interested in traditional or implant dentures once you have a tooth extraction, you can expect to wait anywhere from 6-8 weeks before you can move forward with receiving a new prosthetic. Our team will need to take impressions and determine the size, shape, and color of your teeth. Once lab technicians create your new denture, we will have you fitted and make any final adjustments before having you leave with your customized prosthetic. We want to make sure it fits comfortably and looks natural, and you can expect our team to discuss ways to take care of your new smile to extend its lifespan.
How Should I Prepare for My Tooth Extraction?
Before undergoing your tooth extraction, you'll need to tell Dr. Baldwin about your health history as well as any medications you are taking. This will determine whether you might face problems with anesthesia or sedation. Our team will also discuss the best and worst foods to eat before your treatment and if it is necessary that you cease taking any medications. Because the anesthesia does take time to wear off, you will need to arrange for a family member or friend to take you to your appointment and escort you home.