Teeth Whitening – Arlington, TX
In-Office Treatment for Brighter Smiles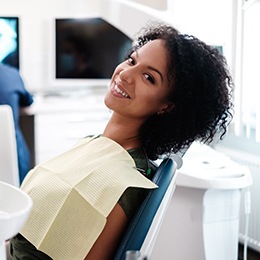 Want a whiter, brighter smile? Professional teeth whitening in Arlington can help you achieve the results you desire. Dr. Douglas Baldwin and our team at Foundation Dental Solutions want you to feel good about the way you look, which is why we use a professional-grade bleaching gel to blast away stains and discoloration, leaving you with a new and improved appearance. Providing safe and effective in-office treatment, you can expect to see noticeable results in as little as one hour. Contact us today to schedule your appointment and let us help you prepare to make a positive and unforgettable impression.
Who is a Good Candidate for Teeth Whitening?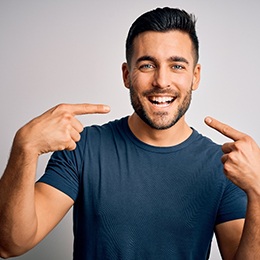 Tooth stains most commonly develop as a result of:
Dark-colored foods and beverages (i.e., coffee, tea, soda, red wine, berries)
Smoking or using tobacco products
Certain medications designed to treat various illnesses
Sugary and acidic foods
Poor dental hygiene
Age
Genetics
While some of these reasons can be avoided, others you simply cannot control. Brushing helps remove extrinsic stains, which are those that exist on the surface and most commonly caused by drinking and eating certain foods and beverages as well as smoking. However, should intrinsic discoloration occur as a result of taking certain medications, it often requires the help of a professional to remedy these yellow and brownish stains.
If you are a working professional or someone who enjoys socializing with friends, family, and colleagues, teeth whitening can be an ideal solution to help brighten your smile. By eliminating the stains on the surface and deep within the layers of your teeth, you can feel more confident in your overall appearance.
How Does Teeth Whitening Work?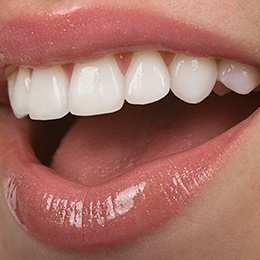 At Foundation Dental Solutions, Dr. Baldwin provides in-office teeth whitening for interested and eligible candidates. You will find that by choosing a cosmetic dentist in Arlington to administer your professional teeth whitening, your treatment will be catered according to your needs. This is what makes it uniquely different than any over-the-counter whitening kit you will find at your local drug store.
In-Office Teeth Whitening
One of the many reasons you might choose in-office teeth whitening is its ability to brighten smiles in as little as an hour. The convenience factor alone makes it an attractive option if you are a busy professional who needs a quick boost on a lunch break. It's also a great way to prepare your smile for an upcoming special event, such as a job interview or wedding. The products Dr. Baldwin uses to administer in-office teeth whitening are proven safe and effective, allowing patients to enjoy the process of achieving a whiter smile instead of dealing with irritated soft tissues caused by improper bleaching gel application.
Tips for Maintaining Your Brighter Smile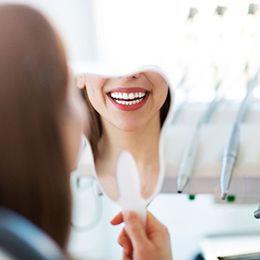 Whitening your smile is an investment in your time and money, so it's important to prioritize how you plan to maintain your results. A few easy tips to remember include:
Schedule touch-ups with Dr. Baldwin if necessary
Avoid consuming foods and beverages that are darkly pigmented and have stain-causing tannins (i.e., coffee, tea, wine, chocolate)
Maintain good oral hygiene by brushing twice a day, flossing once a day, rinsing, and keeping your regularly scheduled checkups and cleanings with our office every six months
Incorporate healthy foods into your diet, including white dairy, as this will help to strengthen your teeth and keep them looking brighter