Dentures – Arlington, TX
Simply Stunning Smile Restoration
At Foundation Dental Solutions we take a unique approach to our denture patients. Dr. Baldwin feels that every denture patient should be treated as a cosmetic patient striving to obtain that brilliant smile. His goal is to provide each patient with highly functional, exquisite dentures in our Arlington, TX dental office. "Simply Stunning dentures" will give you back that stunning natural smile and the confidence that you've been missing.
Dr. Baldwin has recognized over the years that denture patients were not happy with the function and artificial look of their dentures. After talking with patients over the years and listening to their concerns he has come up with a system to ensure his dentures are natural looking and beautiful, as well as functional and affordable. His system is called "Simply Stunning Dentures".
Unique Approach to Rebuilding Your Smile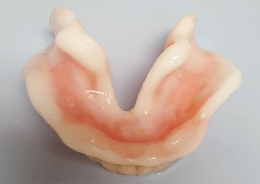 Functional Impression
When you choose "Simply Stunning Dentures", Dr. Baldwin wants you to know that you will be offered more than just an attractive denture. Dr. Baldwin will hand set your anterior teeth during a special visit allowing you to see your new smile before the dentures are processed. You will also experience better chewing efficiency with what we call "cutters" on your upper molar denture teeth. Cutters give you more of an optimal chewing experience than normal dentures. Cutters allow you to eat more nutritious foods that are known to be an issue with dentures, such as, lettuce, meats, etc. The cutters help to break/cut up the food easier which helps you digest your food better.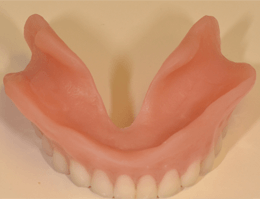 Softbase
With "Simply Stunning Dentures", we offer an optional feature that patients rave over! It's a permanent soft-base on the lower denture. It offers a cushy base next to the gums verses the hard acrylic. The soft-base will also help with retention on the lower denture on most patients. Creating this unique feature requires an advanced impression technique which involves a material that flows at body temperature, allowing the patient's own musculature to provide an incredible, precise fit. Dr. Baldwin will be happy to show you our soft-base sample and discuss if this option will benefit you and your new radiant smile! As you can see, Dr. Baldwin takes great pride in crafting your new dentures and partnering with you to give you back your brilliant smile, allowing you to feel like you again!
If you wish for more secure dentures, Dr. Baldwin is highly experienced in implant placement and advanced techniques. Implant placement will secure your dentures so that they feel comfortable and more natural. Implants will allow for you to have an open pallet where you will be able to taste the great taste of food again! It also helps eliminate the gag issue if this is something you suffer from. Dr. Baldwin can simply perform a free 3D scan to determine that you're a good implant candidate in the dental office. If it's determined that you qualify then he will go over your options and answer any questions that you might have. Dr. Baldwin will perform the procedure in our dental office from beginning to end. If you have any fears of this procedure, please let Dr. Baldwin know. We have several options to help eliminate those concerns.
Full Dentures
When patients have lost most or even all of their teeth, eating is not the only problem they experience – the ability to properly pronounce words can become difficult, and over time, their facial appearance can suffer due to jawbone deterioration. Thankfully, a full denture can provide you with the renewed support, stability, and cosmetic quality you need. A full denture is designed to replace either the upper or lower arch of teeth, or both at once when there's been total tooth loss.
Our dentures offer some unique benefits to our patients. Dr. Baldwin and our team will create a precise impression of your mouth that is used to build your new, customized denture with true craftsman-level quality. Then, once the final restoration is done, we will make any adjustments needed to ensure an ideal fit. Although traditional full dentures are held in place with the help of natural suction, dental adhesive can be added for extra stability. They're also removable, allowing for easy cleaning and more comfortable sleep.
What sets our dentures apart is the addition of cutting elements in the denture and permanent soft liners. Cutting elements in our precision crafted dentures make chewing even the most difficult foods easier. Additionally, the soft liners on most dentures need repair or replacement every several years, but our soft liners are guaranteed to stay soft and last for the lifetime of the denture with regular care.
Partial Dentures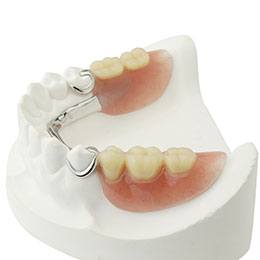 Partial dentures are used when patients have lost some but not all of their natural teeth; this restoration is designed much like a puzzle piece so that it can fit into a unique series of gaps, effectively replacing the missing teeth while allowing the rest of a patient's original smile to remain intact. They consist of a set of artificial teeth anchored to a base that replicates the gum line, and they stay in the place with the help of a metal clip or frame. Like full dentures, the traditional versions are also removable for the patient's convenience and comfort.
Both full and partial dentures offer the valuable benefits of cutter teeth, which make chewing meats and food much easier and more natural. We also use a permanent soft liner that lasts longer in comparison to the soft liners on dentures from elsewhere tend to last only a few weeks.
Dental Implant-Retained Dentures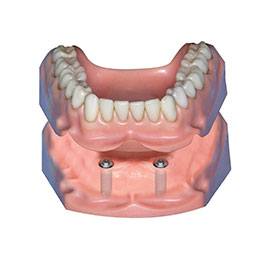 Of course, some patients may be interested in a level of permanence and stability that removable dentures just can't provide. With the transformative power of implants, Dr. Baldwin can take your prosthetic to the next level by creating a foundation in your mouth to which the denture can be securely attached. You can chose a removable denture, or we can anchor it in place so that the result is as natural and seamless as possible – the choice is up to the patient! Please visit our implants page to learn more about this innovative reconstructive solution.
Now what do I do?
You call! It's that simple!!! Call today to set your appointment for your free consultation with Dr. Baldwin and get started right now. What's holding you back from that exquisite, brilliant, "Simply Stunning" smile you have always been looking for?
TO SCHEDULE YOUR COMPLIMENTARY CONSULTATION, PLEASE CALL US AT 817-478-4300.