Tooth-Colored Fillings – Arlington, TX
Filling Cavities Without the Metal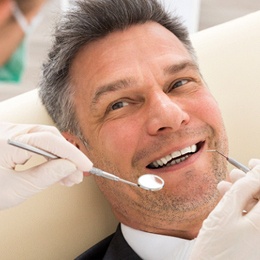 Worried your cavity will require dental work that comes in the form of a silver or gold filling? Traditional amalgam used to be the only reliable solution; however, advancements in dentistry have made it possible for more environment-friendly, non-toxic restorations to take their place. At Foundation Dental Solutions, our team can easily repair your cavities with tooth-colored fillings in our Arlington, TX dental office. Made of composite resin, this color-matching alternative is safer to use, durable, and long-lasting, allowing you to keep the spotlight off your dental work and enjoy a healthier, more beautiful smile. To find out how you can receive this type of treatment, contact our dental office.
Why Choose Foundation Dental Solutions for Tooth-Colored Fillings?
Composite Resin Evenly Blends in With Your Smile
Process Completed in One Visit
Safer, Biocompatible Solution as Opposed to Traditional Amalgam
What Are Tooth-Colored Fillings?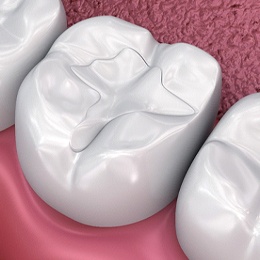 Tooth-colored fillings are an ideal alternative to traditional amalgam (i.e. silver, gold). Instead of relying on metal-based restorations, Dr. Baldwin and his team use a composite resin that is matched to your natural tooth color to fill in the decayed tooth.
As a durable and long-lasting alternative, tooth-colored fillings are not only capable of withstanding the daily pressures placed on teeth, but they are also a great way for individuals with metal sensitivities and allergies to receive the care they need.
How Do Tooth-Colored Fillings Work?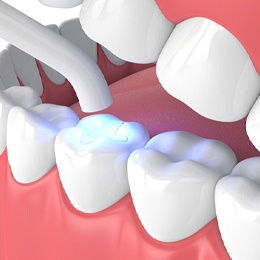 The process of receiving a tooth-colored filling is quite easy. First, you must schedule a consultation with Dr. Baldwin to allow him to examine your oral cavity and determine if your cavity is small enough that a filling will suffice. Sometimes, if cavities are left untreated for an extended period, they can often grow and require a dental crown to provide greater protection.
After cleaning out the tooth and removing the decayed areas, your dentist will fill it with the color-matched composite resin. This malleable substance will harden into place with the help of a curing light. Once there is a solid seal, he will check your bite to make sure the filling is even and produces a seamless aesthetic.
Do I Need a Tooth-Colored Filling?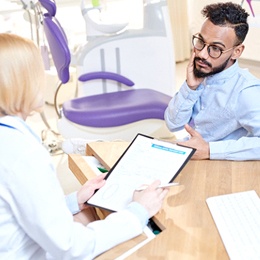 Unsure if you need a tooth-colored filling? Here are a few ways you can tell:
You have developed a cavity
You have tooth sensitivity when eating or drinking something hot or cold
You are experiencing pain within a particular tooth
The dental floss you use begins to tear or fray when flossing near the tooth in question
A particular tooth feels rough
An existing tooth filling is cracked or broken
Benefits of Tooth-Colored Fillings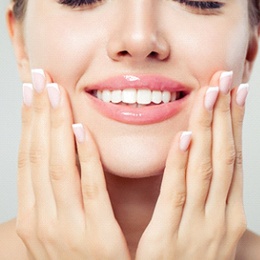 You get to keep more of your natural tooth structure because composite resin doesn't require as much space to effectively fill and seal the tooth
They are a long-lasting solution that is durable and can withstand daily pressure (i.e. chewing, eating)
The process of getting a tooth-colored filling is much faster than traditional amalgam fillings, as there is less preparation involved
They are mercury-free and consist of no metal, making them a safer, non-toxic solution
Your filling will be less likely to become discolored over time