Dental Crowns – Arlington, TX
Seamlessly Repair Your Smile
It can be nearly impossible to enjoy all the valuable benefits of a great smile if you have teeth that are damaged, decayed, or missing altogether. If you're struggling with these issues, reach out to Dr. Douglas Baldwin and the rest of our team for dental crowns in Arlington, TX. We're dedicated to treating your oral health problems with the innovation, personalized attention, and exceptional quality you deserve. Our dental crown and bridge services are designed to restore much-needed stability and structure to lacking smiles in a seamless and long-lasting fashion.
Do I Need a Dental Crown?
The truth is that a damaged tooth has no way of naturally healing itself. Instead, the situation can only become worse if left untreated for too long. At Foundation Dental Solutions, we can create a personalized, tooth-colored crown designed to strengthen and protect the affected tooth depending on its placement within the mouth. Plus, the esthetic value of the restoration will allow it to blend in beautifully with your natural smile!
What Are Fixed Bridges?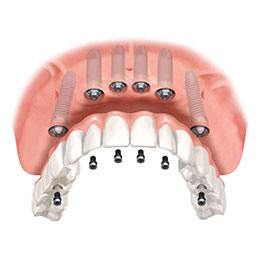 Crowns can also be a vital component of dental bridges, which are used to replace one or more missing teeth in a row within the smile. Bridges consist of durable, attractive prosthetic teeth attached to a gum-like base; they are anchored securely in place with the help of crowns placed over neighboring healthy teeth, thereby creating a strong, visually pleasing result. Dr. Baldwin is also happy to offer a fixed bridge option where your new prosthetic can be made even more secure with the transformative power of dental implants. Visit our dental implants page to learn more.
Learn More about Implant-Supported Bridges
Contact Us to Learn More
With our state-of-the-art treatment options and commitment to convenient, high-quality treatment, we'll work hard to exceed your expectations at Foundation Dental Solutions. Contact us today if you have any questions, or if you're ready to schedule your free initial consultation. Our dental office is located in Arlington, TX, and we also welcome patients from the neighboring areas of Grand Prairie, Fort Worth, Mansfield, and beyond.