Replace Missing Teeth with Dental Implants in Arlington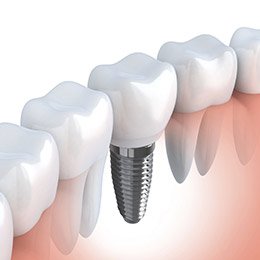 Losing one or more of your teeth is, simply put, a devastating event. Not only can the situation lead to potentially serious oral health problems if left untreated, but a person's confidence is also affected, making it harder for them to eat, speak, or even smile without feeling self-conscious. At Foundation Dental Solutions, Dr. Douglas Baldwin and his team have dedicated themselves to helping patients regain the full, healthy set of teeth they deserve through innovative reconstructive solutions and exceptional work. We're happy to offer affordable dental implants, an ideal tooth replacement option because of their revitalizing benefits, seamless appearance, and long lasting quality.
Placement & Procedure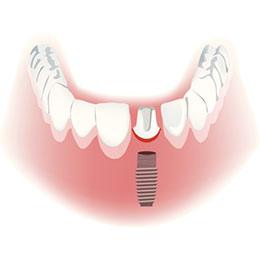 The journey to receiving dental implants begins with the patient's free initial consultation with Dr. Baldwin in Arlington, TX. With the aid of 3-D x-rays that are provided at no cost, he will assess the current state of your oral health. Then, Dr. Baldwin will determine whether or not you're a viable candidate for the procedure. Implants are successful because they replicate the structure of your entire natural tooth, including the root—the portion below the gum line—and the crown, the white portion that's visible in your smile. For an implant to be placed successfully, the patient must have sufficient bone in the area. There are alternative solutions and implant methods available for patients with inadequate bone, which Dr. Baldwin will be happy to discuss with you if the need arises.
In some scenarios an implant can be used immediately to support a crown while in other cases a healing period is required before an implant is put into full function. No patient has to go without teeth during the healing period! Dr. Baldwin will ensure that you have no embarassing gaps in your smile while your new implants become a part of you.
Cone Beam CT
Placing implants is a precise art, and one we want to make absolutely sure we get right. That's why Dr. Baldwin has invested in revolutionary Cone Beam CT technology. This advanced tool allows us to collect the most complete information possible about the anatomy of your mouth and jaw by producing three-dimensional views of them. This gives us the perspective necessary to assess tooth relationships and plan out your surgical procedure accurately and predictably.
Solve Multiple Problems in Oral Health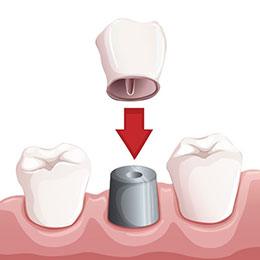 These are multiple options available for implant restoration, depending on the patient's individual needs, preferences, and budget. When it comes to a single implant, a high-quality dental crown serves as the single prosthesis that is securely attached on top. When more than one implant is needed to replenish the structure of a patient's smile, a partial or full fixed bridge can be attached instead. Patients who are familiar with traditional removable dentures may also enjoy the improved stability of an over denture or implant-retained denture, which can attach directly and securely to implants in the mouth. Dr. Baldwin will be sure to explain these different options and his recommendations in detail to you before any actual work is done so that you're both be on the same page about your treatment.
There are several valuable benefits associated with choosing dental implants or an implant-retained prosthetic over more traditional restorative methods, including:
Dental implants are the only reconstructive solution available today that recreates the entire structure of the tooth instead of just the crown. With the implant itself serving as a new tooth root, the health and fullness of the patient's jawbone is preserved, which can prevent future dental problems and even prevent a sagging facial appearance over time.
Instead of having to struggle with a loose or ill-fitting denture, patients can enjoy a permanent solution that feels as strong and solid as natural teeth.
The appearance of restored dental implants is so natural and seamless that many of our patients genuinely forget they aren't their natural teeth after some time has passed.
They can be placed conservatively, which means that we won't have to sacrifice the health of surrounding teeth to accommodate them.
As long as they're cared for properly with regular check-ups and a diligent oral healthcare routine at home, dental implants can last a lifetime.
Implant-Retained Dentures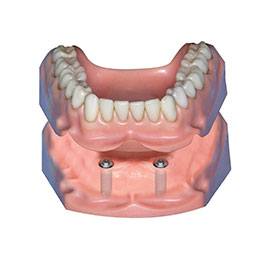 For many patients, traditional dentures are often more trouble than they're worth. They tend to "float" around in the mouth instead of being securely anchored in place; they don't always allow you to eat the same foods you're used to; and the bone underneath them dissolves due to a lack of stimulation, which can result in an even more uncomfortable fit. If you've been struggling with a denture that leaves you feeling discouraged and unconfident, please don't hesitate to reach out to our Arlington, TX dental team. An implant-retained denture from Foundation Dental Solutions can upgrade your denture experience dramatically and give you back the support and permanence you need to feel great about your smile.
There are two types of implant-retained dentures: removable overdentures and non-removable fixed dentures. Removable overdentures are essentially traditional dentures that are anchored in the mouth over placed implants. With this option, patients who enjoy the ease of a removable denture and feel most comfortable when they're able to remove it for cleaning and sleep can have the best of both worlds. A fixed denture, on the other hand, is a permanent prosthetic that can only be removed by Dr. Baldwin. This option provides patients with a renewed sense of strength in their bite and emulates a natural smile as closely as possible.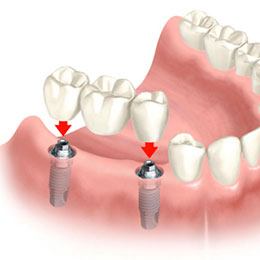 A patient who's struggled with a traditional denture for far too long can finally achieve the pain-free and embarrassment-free smile they've been dreaming of with our implant-retained denture options. We look forward to providing you with the quality improvements you deserve.
Schedule Your Consultation
At Foundation Dental Solutions, Dr. Baldwin and our team won't work just to meet your expectations – we'll do whatever it takes to exceed them. That's why our reconstructive solutions come with a lifetime guarantee. Contact our office today if you have any questions about our implant services, or if you're ready to schedule your free consultation! Located in Arlington, TX, we also serve the areas of Grand Prairie, Mansfield, Fort Worth, and beyond.