Invisalign® – Arlington, TX
See a Straighter Smile Without the Metal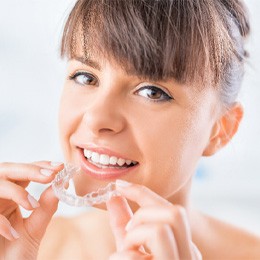 At Foundation Dental Solutions, Dr. Baldwin and his team offer Invisalign clear aligners to patients who prefer an alternative orthodontic solution that doesn't require metal brackets and wires. Made of clear plastic, these customized trays gently apply pressure to your teeth, shifting them in the right direction. Within a matter of 12-24 months, you can expect to see dramatic results that are long-lasting and life-changing. Contact our office today to schedule an appointment with Dr. Baldwin.
Why Choose Foundation Dental Solutions for Invisalign®?
Flexible Financing Available
Dentist with Decades of Experience
State-of-the-Art Dental Technology Used
How Does Invisalign® Work?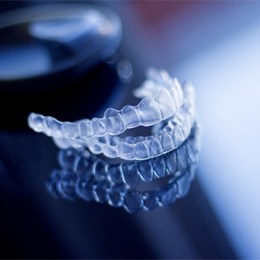 Invisalign clear aligners are crafted by lab technicians who custom-create your trays based on the specifications provided by Dr. Baldwin. Using SmartTrack material, they are designed to be comfortable when worn and easier to put on and remove throughout the day.
By applying an appropriate amount of pressure to your teeth, the trays help your teeth to shift over time. Every 1-2 weeks, you will be required to swap out your current set of aligners for the next set in the series, allowing your teeth to continue moving in the right direction until treatment is complete.
Indications for Invisalign®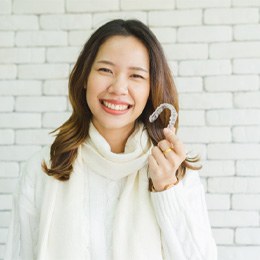 If you are unsure if you qualify for Invisalign, take the time to schedule a consultation with Dr. Baldwin. It is during this visit that he will examine your smile in its entirety and determine if your situation is treatable with Invisalign. Some cases (i.e., severe bite alignment, rotated teeth) cannot be treated with clear aligners and will only achieve the desired smile using traditional orthodontics; however, if you have minor overcrowding, spaces between your teeth, or a slight bite alignment issue, it is possible that Invisalign might be right for you.
Crowded Teeth
Teeth that sit too close together can cause tooth decay and cavities to form because of the inability to properly clean them. However, with Invisalign, your teeth can move to create necessary space, allowing you to brush and floss correctly, minimizing your chances of decay and gum disease.
Gaps Between Teeth
When teeth appear to be too far apart, bacteria and food debris can become trapped. As a result, the same oral health problems can occur. With Invisalign, the clear aligners can move teeth closer together, allowing for adequate space but appropriate closure, ensuring that your smile remains in proper alignment and without unappealing gaps.
Bite Alignment
Overbites, underbites, crossbites, and open bites can cause chronic jaw pain and worn-down tooth enamel. Without treatment, symptoms can worsen. But with Invisalign, your teeth can shift into proper alignment, allowing your bite to function normally.
The Benefits of Invisalign®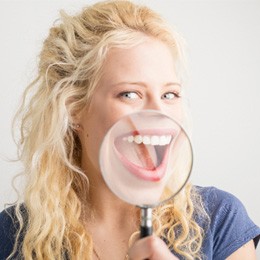 Unlike traditional braces that can irritate, require you to see your dentist every few weeks for an adjustment, and lengthen your treatment time, Invisalign offers a wide range of benefits, making it extremely popular among busy adults. Some of the benefits you can expect include:
Enhanced aesthetics in less time
Boosted confidence
Less irritation because no metal brackets or wires are rubbing against your soft tissues
Greater flexibility because you can take out your trays to eat, drink, and clean them
An easy-to-clean solution that requires only a soft-bristled toothbrush, clear soap, and lukewarm water.
Fewer visits to the dentist's office
Dental visits that take only minutes, allowing Dr. Baldwin to quickly review your progress and make any necessary changes along the way
Improved oral health because of the aligners' ability to shift teeth and realign your bite
Understanding the Cost of Invisalign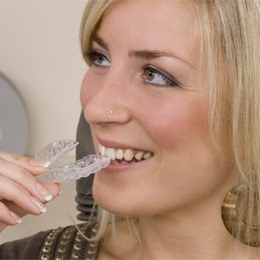 Wish you had a perfectly aligned smile? Invisalign may just be the solution you've been seeking! Its distinctive advantages set it apart from other orthodontic options. Yet, it's crucial to factor in the cost upfront to avoid any unforeseen surprises. Reach out to us for your initial consultation, where we can provide you with an accurate estimate for your treatment. In the meantime, here are some key points for you to consider.
Factors that Affect the Cost of Invisalign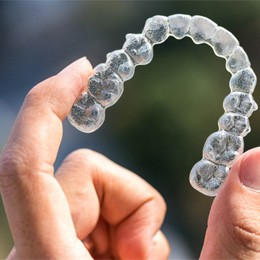 The cost of Invisalign can differ from one individual to another, primarily influenced by several key factors:
Number of Arches – In most Invisalign treatments, both upper and lower arches are straightened. However, in certain instances, only one arch may require correction, resulting in a lower overall cost.
Complexity of the Case – The complexity of orthodontic issues varies, and more intricate cases tend to incur higher expenses. If you have significant misalignment issues, your treatment is likely to be more costly.
Length of Treatment – Longer treatment durations require the use of more aligners, which can increase the overall cost of the treatment.
Invisalign vs. Smile Direct Club™: Which Costs More?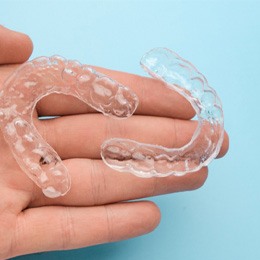 Invisalign typically ranges between $3,000 and $8,000, whereas Smile Direct Club™ (a do-it-yourself option for clear aligners) usually comes in around $2,000. However, it's important to consider some crucial factors that balance out this cost difference:
Quality of Materials – DIY aligners often use lower-grade materials, resulting in less comfort and a higher likelihood of breakage.
Professional Oversight – Opting for Invisalign means you have a professional overseeing your progress, ensuring your treatment stays on track and successful.
Treatment Safety – While DIY aligners promise quicker results, there's a risk of potential dental damage due to moving teeth too rapidly. Invisalign offers a safer alternative in this regard.
Does Dental Insurance Cover Invisalign?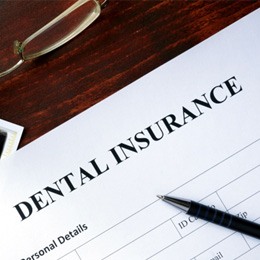 It depends! Certain policies may include a one-time allowance for orthodontic treatments, which includes Invisalign. Of course, it's important to verify your benefits prior to starting any orthodontic procedure. Our team has extensive experience dealing with several different dental insurance plans, and we're more than willing to address any inquiries you may have regarding your coverage and its inclusion of Invisalign.
Options for Making Invisalign Affordable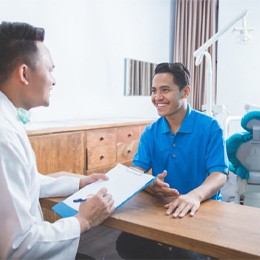 If you're without dental insurance, you're not without options. We offer flexible financing to help manage the cost of your care. Both CareCredit and Lending Club present a range of plans, some with minimal to no interest. Get in touch with us for further details on your payment choices!
Invisalign FAQs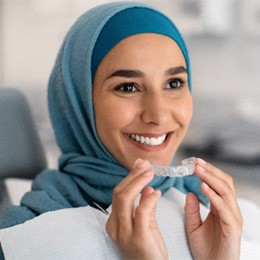 From the noteworthy benefits to important information about the cost, we've covered a lot of information about Invisalign that prospective patients inquire about. If you still have some lingering questions on your mind, however, then this next section is for you! We've answered some FAQs about clear aligner treatment right here and, as always, you can reach out to us if you want to learn more.
Does Invisalign Hurt?
As your teeth are being guided into their properly aligned positions, you might feel some soreness. The good news is that it usually dissipates within a few hours of transitioning to a new tray. Plus, there are several ways you can prevent this sensation all together! For example, you can take an OTC pain reliever about 30 minutes beforehand so you feel little-to-no discomfort. Many patients find that sticking to soft foods and putting the new tray in after dinner is also helpful.
How Do I Clean My Invisalign?
Fortunately, keeping your aligners clean won't be a cumbersome or time-consuming process. After you eat breakfast, brush and floss your teeth thoroughly. Then, use some clean, room-temperature water and a soft-bristled toothbrush to gently scrub each surface of your trays.
Note: You can also use the cleaning crystals that came in your Invisalign welcome kit. All you need to do is place a packet in a small container of water, shake the container a bit to dissolve the crystals, and soak your trays for about 15 minutes in the mixture!
How Long Does Invisalign Take?
You might have heard that Invisalign only takes 12-18 months. While that is the average treatment timeline, there are multiple factors that will influence the length of your teeth-straightening journey. For example, if you are correcting minor misalignment, you might only need to dedicate six months to clear aligner treatment. If, on the other hand, you need to fix more moderate overcrowding, then it may take more than 18 months to align your teeth and bite. At your consultation, our Arlington dentist, Dr. Baldwin, will provide you with an estimate as well as instructions on how to stay on-track.
Can You Eat with Invisalign?
As long as you remove your aligners beforehand, you can eat whatever you'd like – there aren't any dietary restrictions with Invisalign! With that said, we do recommend tweaking your diet a bit if you usually indulge in foods that are crunchy, sticky, or high in sugar. While raw nuts, popcorn, croutons, and other "tough" foods can cause an attachment to come off prematurely, products that are loaded with sugar can dramatically increase your risk of developing cavities. Since both can negatively impact your treatment timeline, we recommend exercising caution or avoiding them altogether.