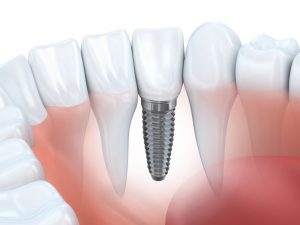 Knowing which of your tooth replacement options is best for your smile isn't easy. Patients missing a few teeth may be deciding between a fixed bridge or dental implants — but which is right? It all depends on you and your unique smile. Your Foundation Dental Solutions dentist, Dr. Baldwin, is here to help you make the correct choice. Keep reading to learn more about the subtle but important differences between fixed bridgework and dental implants in Arlington!
Top Options in Tooth Replacement
Missing teeth must be replaced. Left ignored, even one lost tooth leads to jawbone degeneration and potential problems eating and speaking. Don't hesitate when tooth loss happens to you — seek a replacement immediately. Two leading options for replacing several missing teeth are non-implant supported bridges, or an implant-supported prosthesis.
Fixed Bridgework
One, two or several missing teeth can be securely replaced by a fixed bridge. When not supported by dental implants, this option uses two dental crowns, one placed on the natural tooth surrounding the gap left by missing teeth, to act as anchors. Creating a literal bridge, the prosthetic teeth fill in between the dental crowns on each side.
There are several benefits of choosing fixed bridgework, some of which may make this option the better choice compared to dental implants. Some of these advantages of fixed bridges include:
A fixed bridge prevents the surrounding teeth from drifting out of place.

Using dental crowns as support offers a faster solution than dental implants.

Non-implant supported bridgework is a more economical option.

Patients who are not eligible for surgical operations can benefit from fixed bridgework.
Dental Implants
While a non-implant supported bridge may be the better option for some patients, nothing replaces missing teeth as well as dental implants. That's because this option is a comprehensive solution to tooth loss, giving you back your missing tooth as well as its root. A dental implant is a small titanium post that's implanted directly into the space left by each missing tooth. It acts as the stabilizing root for the prosthetic that sits on top.
Dental implants can support a crown for a single missing tooth, or a bridge or partial dentures for several missing teeth. The benefits of choosing an implant-supported replacement option from the implant dentist in Arlington are many. Some include:
Dental implants stimulate the jawbone, keeping it healthy and whole for years to come.

Dental implants provide the best fit for a prosthetic device, greatly reducing the chances you'll ever have to deal with an ill-fitting or uncomfortable device.

When cared for properly, dental implants can be expected to last the wearer's lifetime.
Depending on your unique needs, dental implants could be just right for you and your smile. Why don't you contact the team at Foundation Dental Solutions to discuss your options with implant dentistry in Arlington? Request your appointment online today!