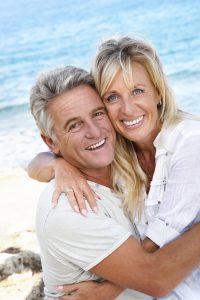 Women who are postmenopausal and have osteoporosis have an increased risk of tooth loss. Of course, there are several choices for tooth replacement—a fixed bridge, a removable partial and dental implants in Arlington. The question is which one provides the most satisfaction to these women.
A study done at Case Western Reserve University School of Dental Medicine suggests that dental implants may be the best option. Leena Palomo, associate professor of periodontics, authored the report, "Dental Implant Supported Restorations Improve the Quality of Life in Osteoporotic Women." The finds were reported in the Journal of International Dentistry.
A total of 237 women with osteoporosis were questioned about their satisfaction with replacement teeth in both their social and professional lives. Participants were from the Case/Cleveland Clinic Postmenopausal Wellness Collaboration. Of the 237 women survey:
64 women had dental implants
60 women had a fixed partial denture
47 women had a removable denture
66 had tooth loss and no restorations
According to Christine DeBaz, a third-year Case Western Reserve dental student and the lead researcher on the project who personally interviewed each participant, women with dental implants reported higher overall satisfaction with their lives. The report went on to say that "women with fixed dentures scored next highest in satisfaction, followed by false teeth and, finally, women with no restoration work.
Women with dental implants also reported the highest satisfaction in emotional and sexual areas, while those without restorations scored the lowest in those two areas."
Solutions from Your Implant Dentist in Arlington
As your implant dentist in Arlington, Dr. Baldwin is committed to providing treatment that achieves satisfaction both in terms of chewing function and aesthetics. With this in mind, several types of dental implants services are offered.
If you are missing a single tooth, then a one dental implant to support a porcelain crown will likely be recommended. However, for women who have lost more than one tooth, implant dentures in Arlington may be the best solution. These combine the security of dental implants with the natural beauty that a full set of dentures provides.
You can choose between two types of implant-retained dentures: removable overdentures and non-removable fixed dentures.
Removable overdentures are attached to dental implants, but are taken out for cleaning and soaking overnight while you sleep. On the other hand, fixed denture placed over implants are only removable by your dentist. These offer the most security of all the options for implant dentistry in Arlington.
For more information about tooth replacement with dental implants in Arlington, call our office today.
Meet the Doctor
Dr. Douglas Baldwin is a family and cosmetic dentist in Arlington, Texas. He and his team provide a complete menu of dental services to patients of all ages. Call Foundation Dental Solutions today to schedule an appointment.