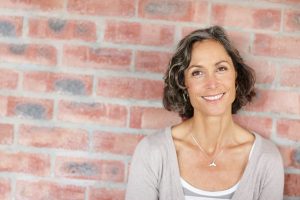 For people with one or more missing teeth, finding the right replacement is crucial. Those gaps in the gum line cause issues eating and speaking, and they actually lead to jawbone degeneration that causes even more tooth loss later on. There are multiple options in tooth replacement — which might be right for you? From dentures in Arlington to dental implants and snap-on dentures, your dentist is here with everything you need to know about tooth replacement.
Dentures
Prosthetic teeth attached to a gum-colored base, dentures provide a solid tooth replacement for several or a whole row of missing teeth. Partial dentures fit into the mouth like a missing puzzle piece, and full dentures take the place of a row in the top or bottom of the mouth.
When not supported by dental implants (which we cover in more detail below), dentures are held in place with suction, or with an over-the-counter denture adhesive. It may take a bit of time to adjust to the sensation of wearing dentures, but most patients enjoy the renewed ability to eat, speak and smile with confidence after a couple of months of wearing dentures.
Dental Implants
When you've lost a tooth, you aren't just missing its crown — you've also lost the stabilizing root. Dental implants in Arlington are the only replacement option that gives you back both. They're tiny titanium posts that are surgically placed in the gum line. Over a recovery period of four to eight months, the implants gradually fuse with the jawbone in a process known as osseointegration. The implants are fully stabilized in the mouth once this process is complete, and the prosthetic tooth device is secured on top. Prosthetics can be dentures, crowns or bridges.
Snap-On Dentures
A fairly recent option in dentures, this attachment system uses a precision attachment (one that looks similar to a snap on your jeans) to help you enjoy increased stability. To fit you with snap-on dentures, first you receive traditional implants to support the denture. The number of implants needed depends on each patient's unique anatomy. Then, the bottom of the denture snaps directly to the attachment system holding the denture securely in place while chewing and speaking. Snap-on dentures are an affordable option that greatly increases a patient's comfort and confidence.
Which One Is Right for YOU?
The tooth replacement that's best for you will depend on several factors, including your lifestyle and your dental and overall health. Implant-supported replacement options offer the utmost in stability while promoting a healthier jawbone, but not everyone is a good candidate for the procedure. The only way to know for sure is to schedule an appointment with Dr. Baldwin to discuss dentures, dental implants and snap-on dentures in Arlington.
Let's get started on your smile! Request your free consultation today.