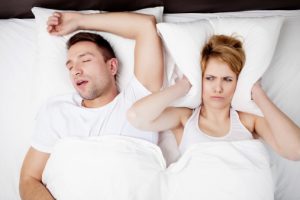 Snoring is capable of being one of the most annoying sounds known to man. It happens at the worst time, too – while you're sleeping. It may be so thunderous that it wakes you up from a deep sleep. And your partner? It's even worse for them. If you suffer from loud snoring, there's nothing to be ashamed of. It's something that's out of your control…or is it? Snoring and sleep apnea have often been linked when it comes to diagnosing a patient with the disease. However, there are instances where snoring is not a symptom, thereby muddying the waters even more. How do you know if you suffer from sleep apnea? Our Arlington, TX office houses one of the best dentists in the area, Dr. Douglas Baldwin. He is the sleep apnea dentist Arlington residents can turn to for excellent sleep apnea treatment.
So, is it just snoring or has sleep apnea altered your sleeping pattern?

The Great Debate: Snoring or Sleep Apnea?
Here's a crazy stat to wrap your head around: Roughly 90 million Americans suffer from some type of snoring while they sleep. It's undetermined how many of those 90 million people are light snorers or moderate, but you can bet that there are many of them that are heavy snorers. Heavy-to-severe snorers often have a sleep disorder called Obstructive Sleep Apnea. It's here where the lines tend to skew on properly diagnosing sleep apnea. Here's what we do know: Obstructive Sleep Apnea is the main culprit behind loud snoring, but loud snoring isn't necessarily a precursor to sleep apnea.
"So, how do you tell the difference?" Simple: Dr. Baldwin will know.  Visit our office to determine if you need the sleep apnea treatment, Arlington residents depend on!
Take Back Your Beauty Sleep
Sleep apnea is a serious condition that needs specialized treatment. This is your livelihood we're talking about here. When a patient suffers from sleep apnea, they're capable of choking or gasping at any point while they're asleep. In extreme cases, patients have been known to stop breathing altogether. So, as you can see, it's very important for you or a loved one to get treated immediately. It isn't just about giving yourself and your partner a restful night's sleep, but about keeping yourselves healthy.
Our office offers a customized oral appliance that offers a snug fit that's comfortable. Its prime mission is to slightly move the lower jaw forward, keeping the tongue in an non-obstructive position. Even a change this small can make an immediate impact as it keeps the airway clear of any blockage. No interruptions, no problems – just a restful night's sleep.
Schedule Your Appointment Today
If you think you or your partner may be suffering from sleep apnea, Dr. Baldwin is the man to see. He will sit you down and discuss your options at our Arlington, TX office. He and the rest of the sleep apnea team will help bring beauty sleep back into your life. We welcome patients from all over the area, including Grand Prairie, Fort Worth, Haltom City, Hurst, Mansfield and beyond. Give yourself the best snoring treatment Arlington residents can trust.