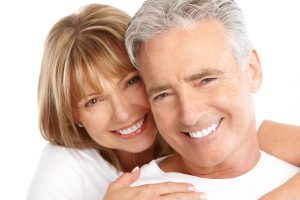 More and more people are opting to go with dental implants in Arlington to replace missing teeth. They have a terrific rate of success—98 percent or higher. However, for people who have or have had gum disease, there may be some concern. Proper treatment for this bacterial infection as well as attention to detail in the preparation for and placement of dental implants is required. Read on to learn more about how an implant dentist in Arlington can restore your smile.
How Does Gum Disease Harm Oral Health?
Gum disease is divided into phases. The first is called gingivitis and is marked by red and swollen gums that may bleed when you brush or floss. Gingivitis can usually be reversed with a professional deep cleaning and better oral hygiene at home.
Periodontitis is the second phase where gum and bone tissue begin to be destroyed by the invading bacteria. Left untreated, periodontitis may cause teeth to become loose because they lack the support of healthy gums and bone. Eventually, extraction may be necessary. Moreover, research has found a link between advanced periodontal disease and other health conditions such as heart disease, stroke and diabetes.
Are Dental Plants an Option with Periodontitis?
The short answer to that question is yes. However, treatment to halt the disease will be required before dental implants can be placed.
A deep cleaning—often called scaling and root planing—will be necessary to clear away the infection. If there is tissue loss, then gum or bone graft surgery may be needed to reconstruct support for your teeth. These procedures, along with your commitment to a stringent oral hygiene routine at home every day, could greatly increase the likelihood of success with dental implants.
How Do I Know if I Can Have Dental Implants?
The first step is to see a qualified implant dentist in Arlington who will use 3D X-rays to determine whether or not there is sufficient bone at the site where you need implants. Because dental implants substitute for the entire tooth structure—both the root and crown—adequate bone volume is essential to creating a firm anchor for your new tooth.
Dental implants can be used to replace a single tooth, or implant dentures in Arlington could be the ideal solution if you are missing a whole row of teeth. Your dentist will be able to recommend the type of implant denture that is best for you.
For the sake of your oral and general health, don't delay treatment for gum disease. And if you are missing teeth, speak to your implant dentist. Dental implants may still be an option once gum disease is treated.
Meet the Doctor
Dr. Douglas Baldwin is a family and implant dentist in Arlington, Texas. He and his team provide a complete menu of dental services to patients of all ages. Call Foundation Dental today to schedule an appointment.