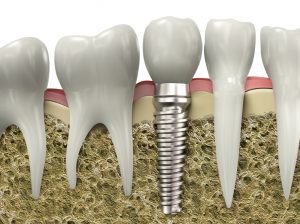 Dental implants have quickly risen in popularity as the most preferred form of tooth replacement. Unlike other forms of tooth replacement, dental implants offer a permanent solution that closely mimics natural teeth both in terms of function and appearance. When performed on ideal candidates and by the hands of a skilled and qualified implant dentist in Arlington, the success of the surgery is over 95 percent. However, even when performed correctly, there are certain factors that can lead to implant failure. As your dentist for dental implants in Arlington, Foundation Dental Solutions has everything you need to know about the success of dental implants.

Determining if You're a Candidate for Dental Implants
Overall, the success rate of dental implants relies of the candidate to ensure risk factors for implant failure are minimal. To be a candidate for dental implants, you must have healthy gums and bones. You must also have adequate bone density to ensure your bone is able to support the implant post. In addition, you must not have certain medical conditions or take medications that hinder the body's ability to heal, fight infections, or negatively impact the bones. You must also practice good oral hygiene and avoid certain lifestyle habits that may cause implants to fail.
Factors Associated with Dental Implant Failure
The number one reason dental implants fail is due to infection. After the implants are in place, it's essential you practice proper oral hygiene to keep bacteria levels in the mouth to a minimum. In addition to brushing and flossing, you must also clean around the implant posts correctly to remove bacteria accumulation. You must also visit your dentist regularly to monitor the implants while undergoing regular dental cleanings.
To ensure the success of your dental implants, you also need to avoid certain risk factors, such as tobacco use. Tobacco is known to hinder the body's ability to fight infections while also making it more difficult to fight infections. As a result, those who use tobacco stand a higher risk for implant failure should an infection occur.
There are certain medical conditions that may impact the success of dental implants, such as uncontrolled diabetes. Diabetes not only makes one more prone to infections, but also makes it more difficult for the body to fight infections. Those who take medications that suppress the immune system, those who develop medical conditions that impact the immune system or bones, and those who have undergone certain cancer treatments may develop dental implant failure.
Dental Implants in Arlington
To ensure the success of dental implants, we perform a thorough consultation to determine the projected success of the surgery. As a leader for implant dentistry in Arlington, we'll create a customized treatment plan to help ensure the success of your dental implants. After the procedure, we'll help care for your implants with regular checkups and cleanings.
If you're interested in benefiting from dental implants in Arlington, we encourage you to call Foundation Dental Solutions at (817) 47804300 to see if dental implants are right for you.