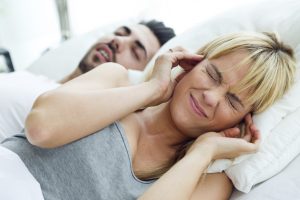 Do you ever hear the words, "You're snoring again," at night while you're trying to get your zzz's? Or has the person who usually sleeps one pillow over taken her pillow and blanket and moved to another room? If either of these scenarios sound familiar, then Dr. Baldwin would like to see you. As if your snoring wasn't causing enough trouble, that annoying sound might be a sign of a much more serious condition called sleep apnea. Arlington sleep apnea dentist Dr. Baldwin has provided relief for a number of patients with sleep apnea and he can do the same for you. Read on to find out how.

Snoring is a common occurrence that happens while you sleep. Your whole body relaxes including the soft tissue in your throat that surrounds your airway. Then as you breathe that tissue vibrates, which generates the sound of snoring. Sleep apnea, on the other hand, occurs when your airway becomes so seriously blocked that your breathing actually stops completely for a few seconds or even up to a minute. This can happen over and over again throughout the night. And while you may not remember these events, your brain is alerted each time and awakens your body to restart breathing. As a result of these frequent awakenings, a whole host of problems may result.
The first thing you might notice is that you're exhausted during the day, and even if you try to get to bed earlier, nothing seems to help. Other negative consequences include:
Painful morning headaches
A sore throat
Memory and concentration problems
Urinating frequently during the night
In addition, sleep apnea is associated with many other complications that can be very harmful to your health. Some of these are high blood pressure, cardiovascular disease, heart attack, type 2 diabetes, liver and kidney problems and surgery complications. Moreover, sleep apnea has been shown to be the root cause of a vast number of automobile accidents.
Sleep Apnea Therapy in Arlington
Dr. Baldwin has successfully treated patients who have sleep apnea with an oral appliance that fits comfortably in your mouth while you sleep. This appliance gently shifts your tongue and lower jaw slightly forward to keep your airway from becoming blocked. You and your bed partner will both sleep better.
Call Our Office Today
If your snoring or the snoring of someone else in your house is getting to be too much, then call Foundation Dental Solutions for a sleep apnea assessment. Our Arlington, TX, office invites patients from the DFW Metroplex including Fort Worth, Grand Prairie, Mansfield, and beyond to call to schedule their sleep apnea consultation today.