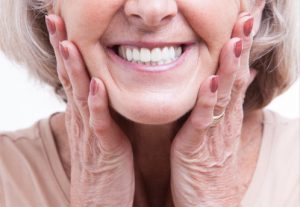 Throughout human history, man has been trying to create the perfect set of false teeth, or dentures. Long before the legendary story of President George Washington's wooden teeth—which were actually made of a combination of hippopotamus ivory, human teeth and parts of donkey and horse teeth—people needed to replace missing teeth. Archaeological evidence points to ancient Egyptian, Mayan and Etruscans of Italy attempting to construct primitive dentures. Today fortunately, advances in technology and dental materials have made dentures more comfortable, natural-looking and durable.  Dr. Douglas Baldwin and his team at Foundation Dental Solutions in Arlington, TX, offer a variety of denture solutions for people who have either complete or partial tooth loss.

Partial Dentures Grand Prairie Smiles About
Whether you are missing two or more teeth consecutively or few teeth here and few teeth there, partial dentures can fill in your smile. The partial dentures Fort Worth area residents prefer are designed to fit between and among your existing natural teeth much like a puzzle piece. A partial denture is constructed of a gum-colored base to which artificial teeth are attached. This denture is held in place by clips or brackets that connect to your natural teeth. Partial dentures are removable for easy cleaning and disinfecting.
Full Dentures
For patients who are edentulous, or missing all or most of their teeth, Foundation Dental Solutions can provide a full denture to replace teeth along the upper or lower arch. With complete tooth loss, replacement is imperative for purposes of oral and general health. Edentulous people are at risk of malnutrition, jawbone loss that can affect facial structure and psychological difficulties because of the consequences to your ability to speak and smile. By taking an exact impression of your mouth, Dr. Baldwin and his staff are able to fabricate full dentures that more closely replicate your natural teeth. Moreover, our dentures have cutting elements that make chewing and biting easier, as well as soft liners that can last indefinitely with proper care.
Implant-Retained Dentures
For greater stability and security, Foundation Dental Solutions offers two types of implant-retained dentures: removable overdentures and non-removable fixed dentures. In either case, dental implants are strategically positioned along your jaw to securely hold your denture in place. Removable overdentures are taken out nightly for cleaning and disinfecting. On the other hand, non-removable fixed dentures are a permanent prosthetic device that only Dr. Baldwin can remove. Both options offer patients a greater sense of confidence.
Call Our Office Today
If you've been contending with the difficulties of missing teeth, then call our office to learn more about the dentures Arlington, TX, relies on for healthy and beautiful smiles. Our Arlington, TX, office invites patients from the DFW Metroplex including Fort Worth, Grand Prairie, Mansfield, and beyond to call to schedule their denture consultation today.