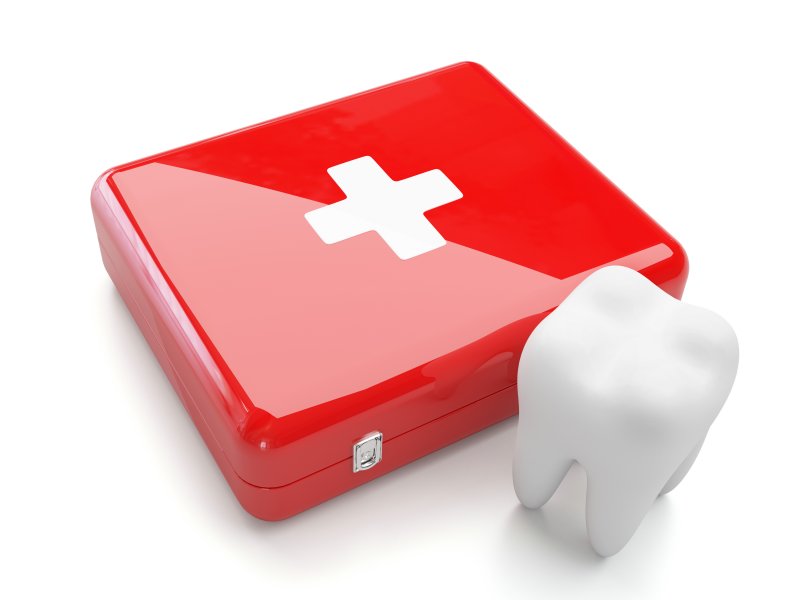 It's a beautiful day to go enjoy a local festival with friends. You gather your things and get ready to leave when suddenly, you trip on something you accidentally left on the floor and now find that you've broken a tooth. While panic might be the first thing to arise, it's important that you have a plan in place as well as the necessary items to manage your situation until you can see your dentist. So, what should be in an emergency dental kit? Read on to find out.
Why Is It Important to Have an Emergency Dental Kit?
Dental injuries happen when you least expect them. You can be at work enjoying a salad when you suddenly bite down on a nut and crack a tooth, taking a road trip with your family when you take a drink of your bottled water only to cringe in pain because of sensitivity, or waking up to intense jaw pain that has you calling your boss to say you're going to be late coming in.
No matter the type of injury you experience, having an emergency dental kit can help to mitigate the pain and reduce the potential for further harm until you reach your dentist's office.
What Should Be Kept in an Emergency Dental Kit?
There are many different products you should expect to keep nearby. This means in your car, at home, and maybe even in your purse. Some of the most common items that are most useful include:
Over-the-counter pain relievers (i.e., ibuprofen, acetaminophen)
An ice pack
Dental wax
Cotton balls or gauze
Dental floss
Latex gloves (or medical-grade if you're allergic to latex)
Dental mirror
Toothbrush
Tweezers
Dental cement
A small container
While many of these might seem odd to include, the truth is that they are extremely helpful should you experience swelling or bleeding. For example, tweezers can help you to retrieve small items that may have fallen out of your mouth. Instead of grabbing it with your hands that likely have dirt and germs on them, tweezers can be an ideal tool.
Also, a small container is beneficial to place a tooth or other debris that you may need to take with you to your dentist's appointment. In some cases, the restoration or tooth that fell out can be re-implanted if it is fully intact and in good shape.
Keeping these kinds of items nearby will serve to give you a better chance of avoiding worsening symptoms or harm while waiting to see your emergency dentist, so don't delay in creating your kit today.
About the Author
Dr. Douglas Baldwin and the team at Foundation Dental Solutions deliver timely care when emergencies arise. No matter the issue, he can work quickly to eliminate pain and improve the status of smiles so that you can resume normal activity after undergoing emergency dental care. If you are experiencing a dental crisis, contact us at (817) 592-8626.