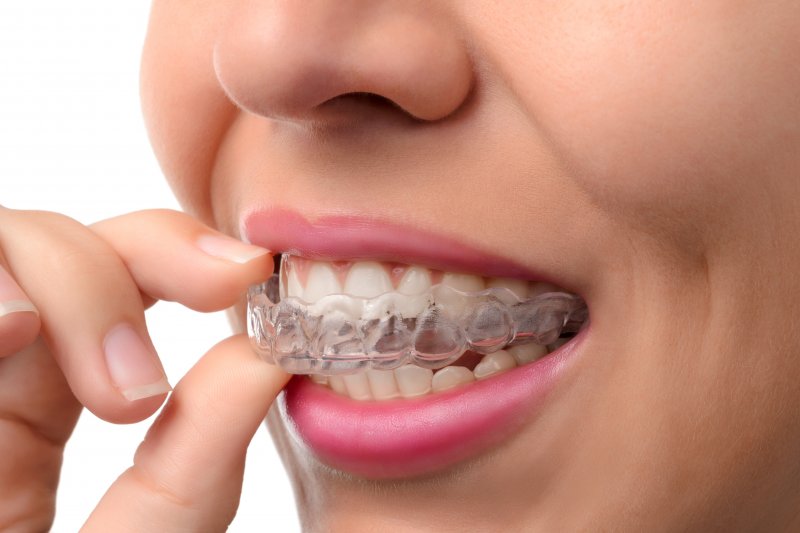 You're working on improving the health and aesthetics of your smile with clear aligners. You're excited about the idea of having a more perfectly aligned smile but after a meeting with your dentist, you learn you need additional trays to "get your smile back on track." If you're feeling a bit shocked by this revelation, you're not alone. What is Invisalign refinement exactly? To better understand how this process works and why it's recommended in the first place, a dentist explains.
What is Invisalign Refinement?
Although Invisalign refinement is not necessary for every patient, it's much more common than you might think. This process is often required when a person's teeth are not moving as predicted and need additional help to keep them moving in the right direction.
By seeing a cosmetic dentist for regular follow-up appointments, they can make adjustments to one's treatment, determining if these extra trays are needed. Even when aligners are worn 20-22 hours each day, there is a chance that a problem can occur, or teeth simply don't move as they should.
With refinement trays, though, they can shift teeth, accordingly, ensuring that they put a person's smile back on track, completing the Invisalign process. It is important to note, however, that with refinement trays, orthodontic treatment may be extended by a few months.
Why Are Refinements Necessary?
Many patients assume that requiring these additional trays is a bad thing. While no one wants to extend the timeframe for treatment, it is not always the patient's fault that these extra aligners become necessary. There are many cases in which a person's teeth simply won't move as they should. Other possible reasons include a person's unwillingness to wear their trays 20-22 hours each day, or someone forgetting to wear their trays for extended periods, or being unable to because of illness.
What Should You Expect if You Need Invisalign Refinements?
When meeting with a dentist, a patient will undergo a thorough examination before digital imaging is taken to determine an updated strategy.
Once the refinement trays are created, which look like regular Invisalign trays and are based on a person's unique smile needs, they will be sent to the individual who will begin to wear them. These aligners will help to straighten teeth, close gaps, and make adjustments to help get a person's smile back on track.
It might seem like a step backward in your Invisalign treatment plan, but refinements can help to ensure that your smile continues to move in the right direction, ultimately coming into alignment to create healthier, enhanced, and more beautiful teeth.
About the Author
Dr. Douglas Baldwin and the team at Foundation Dental Solutions are here to help you through the process of Invisalign treatment. Whether you need refinements or not, we can help to keep your pearly whites on track to better alignment. Contact us at (817) 478-4300 to let us help you enjoy your smile for longer.