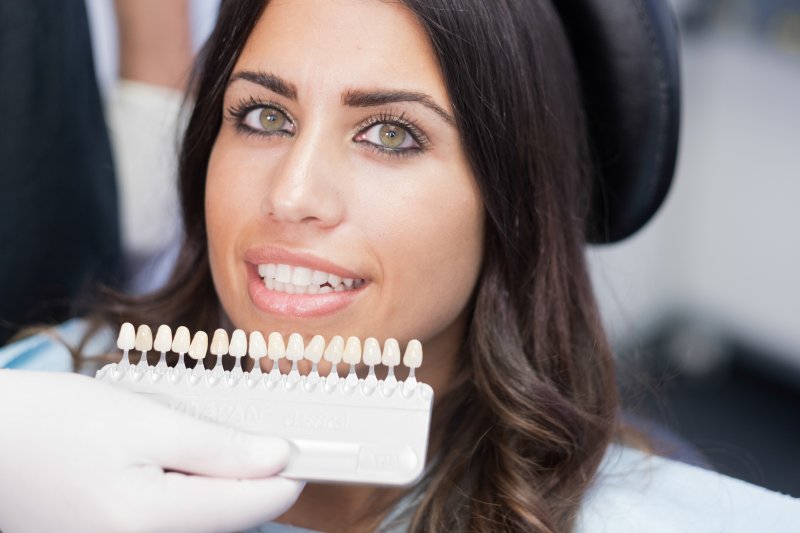 Are you ready to say "so long" to your stained and discolored teeth? Having the opportunity to enjoy a healthy, whiter smile is a dream many aspire to achieve; however, with teeth whitening and veneers being two viable options for treatment, which one works best for your needs? Fortunately, you don't have to make this decision alone. A cosmetic dentist in Arlington is here to share why an initial consultation can help determine how you plan to transform your smile and overall appearance.
Veneers or Teeth Whitening: Which One Will Work?
The truth is that when it comes to removing stains and discoloration, both teeth whitening in Arlington and veneers will help you see noticeable results. Although vastly different when it comes to their processes and cost, they both maintain the same goal, which is to transform your smile.
If you are living with stains caused by drinking too much coffee, soda, or red wine, or you notice that your teeth appear yellow, professional teeth whitening can be a highly effective solution. Your cosmetic dentist can perform in-office treatment that takes about an hour to complete. Blasting away stains with high-grade bleaching gel targets surface and deep-down stains that dull your smile and cause you to feel self-conscious about your appearance. In no time at all, you can see a noticeably brighter smile that allows you to exude confidence when resuming normal activity.
If your stains and discoloration are causing brown or greyish colors to appear on your teeth, these can often be harder to remove with professional whitening. Luckily, veneers in Arlington can step in and provide the beautiful smile you need. As thin sheaths of porcelain that are customized based on your desired shape, size, and color, veneers are highly versatile and considered a permanent cosmetic solution. Why? Because it is required that your dentist remove a small portion of tooth enamel from each tooth. This ensures the veneers will adhere to your teeth when bonded into place.
Although veneers are costlier than teeth whitening, they are capable of last a decade or longer with regular care and maintenance.
The Importance of Scheduling a Consultation
Before you can move forward with any type of cosmetic dental treatment, it is necessary that you schedule a consultation with your dentist. The reason is that during this appointment, your dental team can examine your smile and determine if one solution will be better than the other. Good general oral health is necessary to receive teeth whitening or veneers, and by checking the severity of your stains, your dentist can provide a recommendation that will lead to long-lasting, life-changing results.
Don't underestimate the benefit that comes with seeing your dentist for a consultation. This visit can put you one step closer to achieving the smile you desire in a timeframe that works for you.
About the Author
Dr. Douglas Baldwin and the team at Foundation Dental Solutions are here to deliver transformation cosmetic services. When it comes to removing stains and discoloration, he can provide professional teeth whitening as well as veneers. In no time at all, you can see a noticeably different smile that looks and feels better than before. Whether you prefer a quick and affordable solution that blasts away stains or a truly transformational experience that changes the size, shape, and color of your smile, contact us at (817) 478-4300 to schedule an appointment and learn which cosmetic option is right for you.