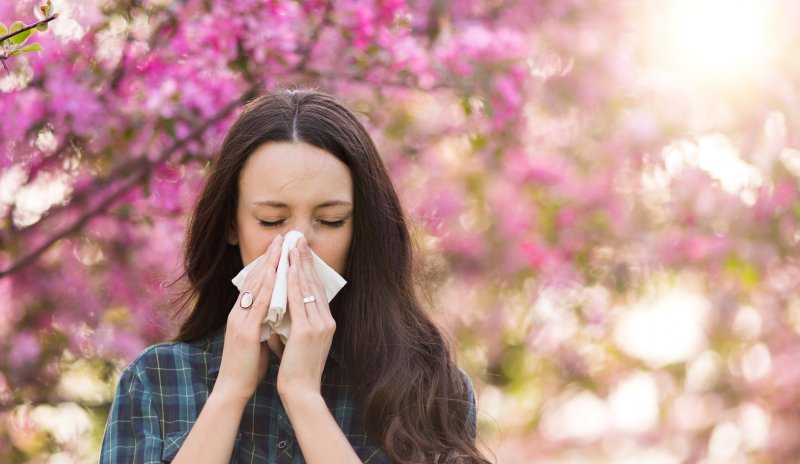 Spring has arrived! Not only does this time of year mean temperatures are slowly rising, trees are blooming, and days are longer, but it also means seasonal allergies for many sufferers. Between blowing your runny nose, managing a gnarly cough, and battling itchy eyes, you're likely reaching for every drug store concoction to achieve relief. While it may seem as if your nose, throat, and eyes are the only areas feeling the pain, the reality is that there is a link between seasonal allergies and dental health. To keep your teeth and gums from experiencing the negative impact of spring, a dentist explains what you can do at home.
How Allergies Affect Your Smile
There's a good chance you're probably experiencing what feels like a nagging toothache. Because of the location of your maxillary sinuses, which are above your upper teeth, your pearly whites can feel the pressure when this area of your face (your sinuses) becomes inflamed. As the discomfort builds, it will begin to push down on your tooth roots and cause problems with pain and tooth sensitivity. Taking an antihistamine can help you achieve relief from the pressure and pain, but if tooth pain persists, it's best to get in to see your dentist.
Apart from tooth pain, dry mouth and sore throat are also common problems that occur when allergies strike. Because you cannot adequately breathe through your nose at night, you'll turn to mouth breathing, which can lead to a dry mouth. It is also possible that antihistamines can reduce saliva production in your oral cavity. As a result, you will be more susceptible to gum disease, bad breath, and tooth decay.
Finally, if you suffer from postnasal drip, do not be surprised if you develop a sore throat. Not only does this new problem cause extreme discomfort, but you may also develop bad breath, which can be attributed to the bacteria forming in your mouth.
Ways to Safeguard Your Teeth and Gums
If you're looking for ways to minimize the effects of seasonal allergies on your teeth and gums, you'll be pleased to learn there are plenty of helpful tips you can follow, including:
Drinking plenty of water to stay hydrated and keep your body flushed of any toxins. It will also encourage an increase in saliva production and reduce the potential for dry mouth.
Maintaining good oral hygiene by brushing, flossing, and rinsing each day to prevent tooth decay, gum disease, and bad breath.
Reaching for sugar-free allergy treatments (i.e., cough drops, cough syrup, etc.) and discussing with your physician ways to address your seasonal allergies to avoid common triggers.
Gargling with salt water to reduce bad breath and harmful bacteria in the mouth.
Meeting with your dentist to discuss reasons for continued tooth pain and ways to mitigate symptoms caused by allergies.
While you may be excited about the rising temperatures and later sunsets, it's important that you take the appropriate steps to safeguard your smile should you find yourself battling seasonal allergies.
About the Author
Dr. Douglas Baldwin and the team at Foundation Dental Solutions want you to enjoy a healthy, beautiful smile year-round. With the changing of the seasons, you may begin to experience allergies that can impact not only your body but also your oral cavity. To reduce the potential for bad breath, decay, and gum disease, contact us at (817) 478-4300 to learn how we can provide the right tips and tools to ensure a healthier smile this spring.