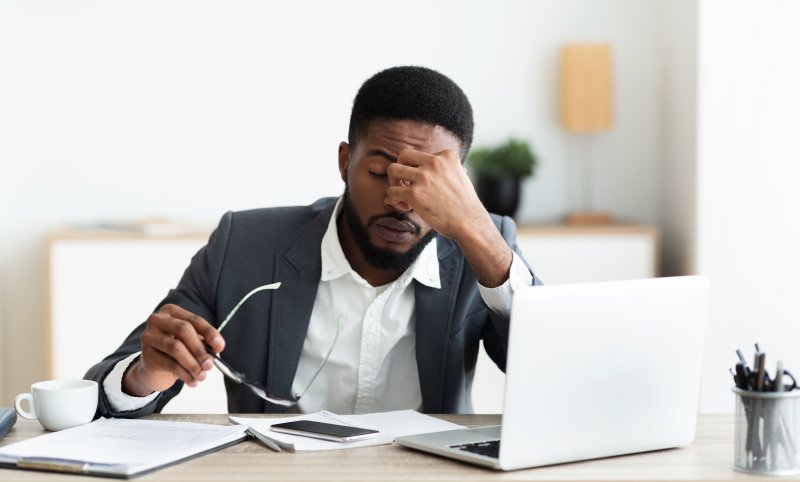 Do you find that the current global pandemic is causing you to experience chronic stress? Between work, family, school, and all other important aspects of life, the culmination of trying to keep it all together can become overwhelming. The result is not only felt throughout your body but also in your mind and your mouth. If the idea of stress negatively impacting your smile seems far-reaching, it's not. A local dentist explains how the changes you're experiencing can lead to serious oral health problems as well as what you can do to minimize stress and safeguard your smile.
Stress and Your Smile: What Can Happen?
When facing mounting stress at work or home, your body is under attack. Not only can it cause you to neglect your oral hygiene should you become "too busy" or depressed by your current situation, but it can also weaken your immune system.
According to Delta Dental, the body produces more cortisol, which can increase your risk for periodontal disease. If stress is causing your immune system to not function as it should, you can face bone and tooth loss as well as a host of other overall health problems (i.e., diabetes, cardiovascular disease, kidney disease, neurological disorders like dementia or Alzheimer's, and more).
Also, when stress takes center-stage, you may pick up bad habits like drinking or smoking, both of which can make you vulnerable to decay, gum disease, bad breath, and even sleep breathing problems.
Stress has also been linked to:
Bruxism (Teeth Grinding): This process can wear away at tooth enamel and lead to chronic jaw pain if left untreated.
Burning Mouth Syndrome: Your tongue, lips, and the roof of your mouth may begin to feel hot or as if it is burning.
Periodontal Disease: Because of the increased production of cortisol when feeling stressed as well as the possible lack of oral hygiene, your gums can become inflamed and begin to bleed when brushing and flossing. Bacteria attack the soft oral tissue and can lead to a breakdown of the bone, teeth, and enter the bloodstream.
TMJ: Temporomandibular joint disorder (TMD) can develop and cause immense pain throughout the jaw, face, and mouth.
Ways to Safeguard Your Smile and Minimize Stress
No one wants to live with these chronic conditions, which is why it is important that you speak with your dentist about ways to better protect your smile. Although it may sound more suitable to discuss helpful tips to minimize stress, a dental professional can help in that arena, too. Some techniques to consider include:
Asking your dentist about a customized mouthguard to protect teeth should you be prone to bruxism
Maintaining good oral hygiene at home by brushing twice a day, flossing, and rinsing
Keeping regular six-month checkups and cleanings with your dentist
Keeping sugar-free gum in your pocket or desk should you have the urge to bite your fingernails
Incorporate exercise into your daily routine
Schedule a meeting with a counselor to discuss what is causing your stress
Limit your caffeine and alcohol intake
Stop smoking and using tobacco products
Practice meditation, yoga, or another relaxing activity
Don't let stress dictate the health of your smile. Identify what you can do to take better care of your mouth, body, and mind.
About the Author
If you're looking to take back your oral health, Dr. Douglas Baldwin and the team at Foundation Dental Solutions can help. Offering preventive services designed to detect problems early on and help patients better maintain healthy teeth and gums, Dr. Baldwin can deliver the results you need to feel good about your smile year-round. Not to mention, he can also provide tips and techniques to minimize the stress in your life and, in turn, help to improve your smile. Contact us at (817) 478-4300 to learn how we can better assist in your oral healthcare journey.