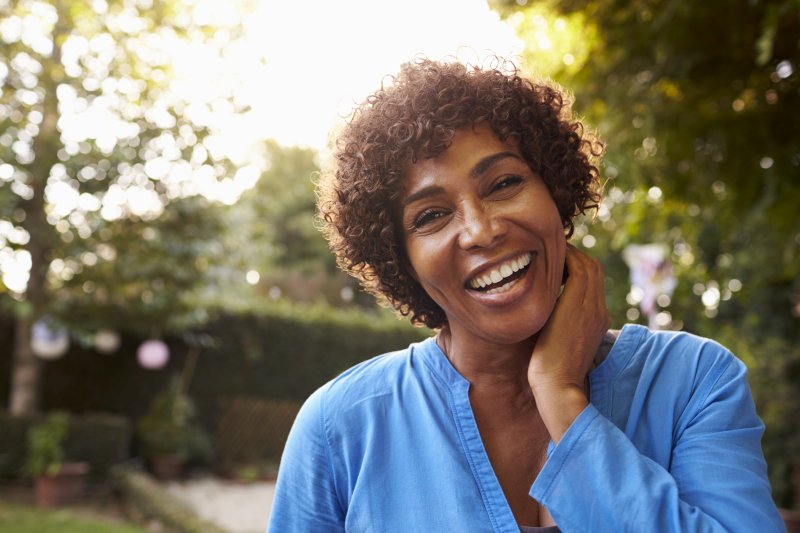 If you like the idea of having dental implants replace your missing teeth, you're not alone. For years, people have turned to these unique prosthetics as a way to recapture their youthful appearance while improving the state of their oral health. Designed to offer permanence, stability, and a longer-lasting smile, it's no wonder they are considered the gold standard for tooth replacement. But will they feel natural once they are surgically placed? A dentist shares what you can expect when receiving your implants and why they're still the best choice to replace missing teeth.
What to Expect Immediately Following Your Implant Surgery
Once your dental implants are firmly in place, there is a good chance you will experience some soreness and discomfort, but don't worry, it's only temporary. Because it is an invasive procedure, your dentist will need to make an incision in your gums to access the bone where the implant will be placed. Naturally, it will take time for your soft tissues and bone to fuse with the implant and heal. You might also experience some sensitivity immediately following your procedure but again, this shouldn't last long.
Fortunately, once your implants have had a chance to heal (3-6 months), you'll have a smile that is functional, comfortable, natural in appearance, and long-lasting. Dental implants mimic the natural tooth structure, which means from the root to the crown, you can expect your artificial teeth to look and act just like regular teeth.
What are the Benefits of Dental Implants?
There is a good chance you are already familiar with most of the benefits associated with dental implants, especially if you've already had a consultation with your dentist. But there are a few that you may not realize, such as:
You'll enjoy a greater bite force. After your restoration is secured to your implant, you can begin to enjoy not only a complete appearance, but you'll be able to eat all the foods you love and enjoy simply because of your even bite force. When teeth are missing, it can create an uneven balance when biting or chewing, which can make eating some foods more difficult. Once your implant is in place, its unique structure will allow for normal oral function, making it easy to bite and chew without worry about your implant slipping or falling out.
You'll have teeth that feel comfortable. While this may not make much sense, consider a denture. Artificial teeth rest on top of an acrylic base that sits on top of your gums. Using your natural suction to remain in place, your facial shape will change over time, causing it to no longer fit correctly or comfortably. But dental implants fuse with the bone, making them a solid and permanent fixture within your mouth. With proper care, you can expect your new teeth to feel just as comfortable 20 years from now.
Minor soreness, sensitivity, and discomfort are normal after any type of oral surgery. But as long as you follow the instructions provided by your dentist during your recovery phase, you'll be enjoying a smile that is healthier and feels completely natural in no time at all.
About the Author
Dr. Douglas Baldwin received his education at University of Texas colleges in Arlington and San Antonio. Since earning his dental degree, he has spent years learning about innovative technologies to bring to his patients in North Texas. Studying at the California Implant Institute, he is knowledgeable and skilled with implant dentistry, and he strives to help patients achieve fully restored smiles with the help of dental implants. Not only will he discuss your smile goals, but he'll also go over what you can expect and why these tooth replacement solutions feel so natural when put into place. If you want to replace one or more of your missing teeth, contact us at (817) 478-4300.