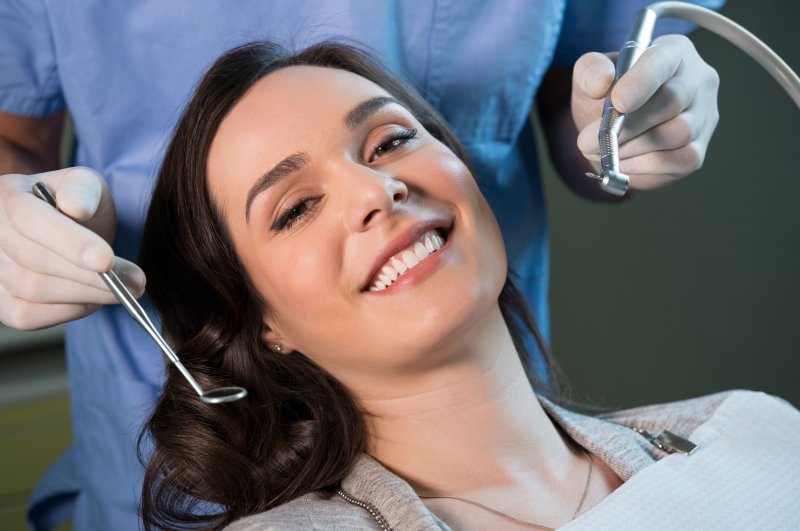 The new year has arrived, which means you probably have a laundry list of resolutions you are already working on or are planning to start "next Monday." If taking better care of your smile is part of your 2021 goals, why not start today with a dental checkup? You know the importance of these regular visits, but life often gets in the way, causing a busy schedule to take precedent over a necessary dental appointment. A local dentist invites you to read the following article to discover the 3 reasons why there's no better time than now to get in for a checkup and cleaning.
Renewed Dental Benefits = Better Oral Health
As a dental insurance policyholder, you understand that your benefits do not roll over at the end of the year. If there is any money left behind that is allotted to you by your insurer, it is returned come midnight on January 1. Although there's nothing much you can do about this (other than use them before they expire), the good news is that the beginning of another year means your benefits start anew. And since most policies agree to cover preventive visits (dental checkups and cleanings) at 80-100%, you'll pay little or nothing at all. This is one of the most beneficial reasons to get started on improving your oral health early on.
Early Detection Means Fewer Problems
If your intentions are to get back into a routine of visiting the dentist and avoiding all dental problems, the truth is that tooth decay, gum disease, halitosis, and a poorly aligned bite may already be present. By seeing your dentist early on, though, you can mitigate the potential for worsening oral health by starting treatment right away. The earlier your dental professional finds a problem, the greater the chances of avoiding more serious developments later on. Not only does this mean a more positive outlook for your teeth and gums, but it also means avoiding the additional cost associated with restorative dentistry.
Meeting Your Deductible Means Paying Less
If it has been a while since you visited the dentist, you may be experiencing certain problems that require restorative or emergency dentistry to fix. Whether it is a dental crown or tooth extraction, the sooner you're able to meet your deductible, the less money you'll spend should you require additional treatment later on in the year. Naturally, this depends on how much of your annual maximum you are using toward these early treatments, but you can expect your dental insurance company to cover anywhere between 50-80% of the total cost for major or minor restorative services.
It pays to get in for a regular dental checkup early in the year. From the improvements you'll make to your smile to the money you'll save, this proactive approach is one you'll be glad you made.
About the Author
If you're looking to take back your oral health, Dr. Douglas Baldwin and the team at Foundation Dental Solutions can help. Offering preventive services designed to detect problems early on and help patients better maintain healthy teeth and gums, Dr. Baldwin can deliver the results you need to feel good about your smile year-round. Contact us at (817) 478-4300 to learn how we can better assist in your oral healthcare journey.