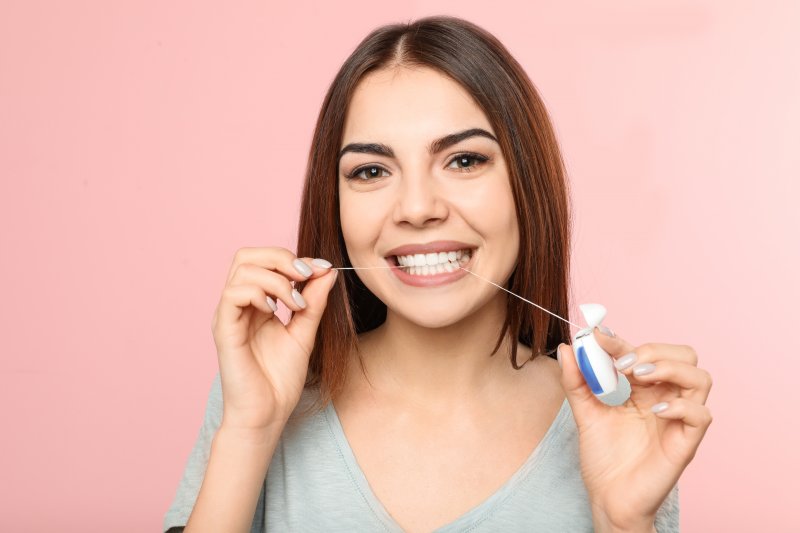 Everyone knows brushing and flossing are pivotal parts of any oral hygiene routine, but why is the latter so often overlooked? Bacteria and food particles love to creep into the nooks and crannies of a person's smile, especially those areas in-between teeth. Since brushing is only effective at removing plaque from the surfaces of teeth, it is recommended that dental floss be used (and mouthwash) to take care of the rest. If you want to make flossing a more integral part of your routine in 2021, read on to find out why it's important and what you can do to make this important task easier and more enjoyable.
The Importance of Flossing
Do you know how the foods you eat can turn into acid? Probably not. You may even wonder why this is important to know, but it is. When eating foods that are high in carbohydrates (starch) and sugar, the particles can adhere to all surfaces of your teeth, including the areas in-between. As the harmful bacteria begin to build over time, it turns the starches and sugars into acid, which begins to eat away and destroy your tooth enamel. The result is cavities.
By flossing, you are being proactive to remove these food particles and bad bacteria, reducing your chances of tooth decay and possibly even gingivitis (the first stage of gum disease).
How to Floss Correctly
Not only is important to remember to floss every day, but it's also necessary that you know how to do it correctly. Improper use can damage oral tissues, so if you're unsure of the proper technique, don't be afraid to ask your dentist for help.
According to the American Dental Association (ADA), you should use 18" of dental floss, curling your middle fingers around each end and gently holding it between your thumb and forefinger. You are to then move the floss back and forth until it reaches the gum line. Creating a "C" shape, you should move the floss up and down to effectively remove built-up plaque. You will continue to do this until you have finished flossing all your teeth.
Ways to Help You Stick to Flossing Every Day
To ensure you keep flossing part of your daily routine, try incorporating the following tips:
Set an alarm on your phone
Place your dental floss next to your toothbrush
Use a flossing device that works for you (i.e., dental floss, water irrigator, flossing threader)
Keep dental floss in your purse, bag, or pocket, so it's easier to remove food while on the go
Find a reminder app on your phone that will help you remember to floss
As you make your New Year's Resolution for 2021, don't forget to include flossing to the list. Your commitment to improving your oral health will allow you to spend less time in the dentist's chair and more time enjoying the people and things you love most.
About the Author
At Foundation Dental Solutions, Dr. Douglas Baldwin is equipped to provide his patients with preventive care that is safe and effective. From general checkups and cleanings to fluoride treatment, dental sealants, and more, he and his team can help individuals better maintain healthier smiles while recommending helpful tips and ways to change up at-home oral hygiene routines. Whether it is a new way to brush or how to properly floss, they are available to answer questions and suggest useful products to make caring for teeth in-between appointments easier than ever. If you would like help to improve your flossing technique, contact us at (817) 478-4300.