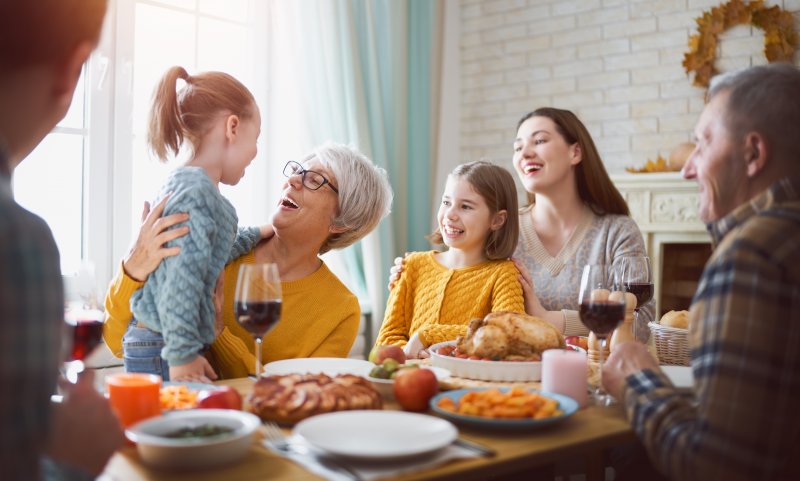 Living with dentures isn't always easy, especially when it comes to the holidays. With so many delicious foods, you may be wondering if there are certain ones you should avoid. Of course, it's not just about what you eat, but it's also how you consume your food that can cause you to forgo time with family and friends and instead, spend your holidays in a dentist's chair in need of emergency treatment. To ensure your dentures or dental implants remain fully intact this season, here are a few tips to consider when preparing to enjoy your holiday meal.
Minimize How Much Sugar You Consume
If you're like most people, you cannot wait to get a piece of your favorite dessert. No matter if it's pumpkin pie, pecan pie, apple cobbler, or your grandma's German chocolate cake, all contain large amounts of sugar, which can stick to your dentures. But it isn't just desserts that can cause you trouble. Keep in mind that sweet potato casserole, cranberry sauce, and drinking soda or sweet wine can cause you to ingest just as much sugar. Should you be unable to forgo these food options altogether, make sure you drink plenty of water to keep your salivary glands working to flush out any harmful sugar that may try to wreak havoc on your natural teeth and restorations.
Cut Up Your Food
When wearing dentures, it is advised that you take smaller bites and cut your food up into tinier pieces. This not only helps to prevent your denture from slipping, but it also allows you to apply enough pressure to your restoration to ensure an even bite force. When chewing on one side, you will discover your dentures become more worn down. If you want to keep your prosthetic lasting as long as possible, make sure you're chewing on both sides.
Don't Bother with Hard Foods
Want your dentures to remain free of chips, cracks, or breaks? You'll want to avoid consuming any hard foods this time of year. While it may be tempting to crack open your favorite nuts or enjoy a piece of peanut brittle, they can cause significant damage to your dentures, resulting in a dental emergency that will require leaving your family to seek immediate treatment. It's simply not worth the potential harm you could cause to your smile, so although the temptation may be difficult to overcome, do your best to look for alternative options that are easier on your smile.
Taking these necessary precautions will keep your dentures free of damage and lasting even longer through the holidays and into the new year.
About the Author
Dr. Douglas Baldwin knows it can be difficult trying to avoid your favorite foods this holiday season. But he and his team want you to minimize the potential for damage and a sudden dental emergency. Although available to treat your specific problem if necessary, he will be happy to provide you with tips to keep your smile and its restorations firmly intact throughout the holidays. If you would like to learn what you can do to better protect your smile, contact us at (817) 478-4300.