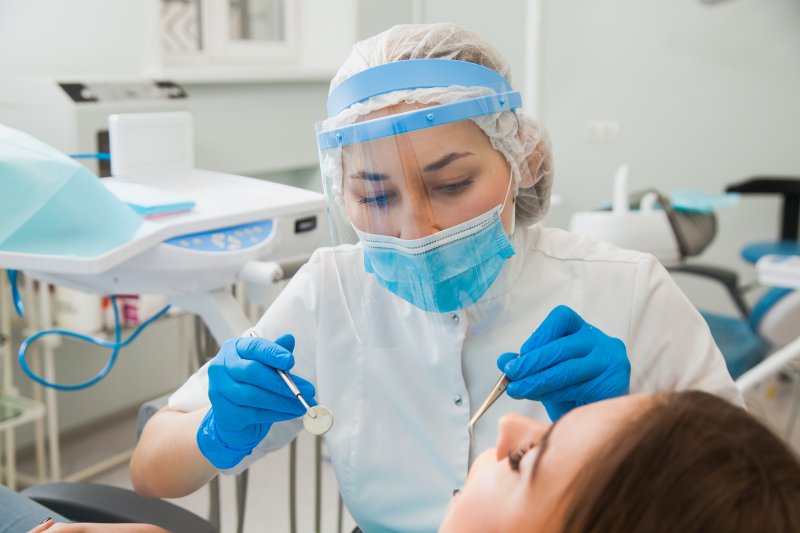 For some people, money, fear, naivety, and even an apathetic mindset will keep them from seeing a dentist twice a year. Add on a global pandemic, and you will find more and more individuals skipping out on their dental exam and cleaning altogether. Unfortunately, this decision to avoid regular visits, even amidst the current crisis, can lead to unnecessary and costly dental procedures in the future. To ensure this doesn't happen to you, learn why it's best to keep seeing your dentist during this time and how you can do it safely.
Why You Should Keep Your Regular Appointment
Since dental offices began reopening in May 2020, dentists have started implementing additional safety protocols to keep everyone better protected against COVID-19. From increased sanitation efforts to wearing personal protective equipment (PPE), dental professionals are doing everything possible to avoid contamination and possible transmission of harmful bacteria and viruses.
Understandably, most patients like yourself may be hesitant to return for a regular dental checkup and cleaning during this time; however, there are negative consequences by putting off your six-month visits. Not only are you putting yourself at risk for developing tooth decay, gum disease, and other potentially dangerous dental problems (i.e. oral cancer), but you're also putting your overall health at risk should an infection spread from your mouth to another area of your body.
If you are concerned about an upcoming visit, there are various steps you can take to ensure your oral health is in good shape and help your dentist maintain a clean and safe environment.
Ways to Stay Safe at the Dentist's Office
In addition to thorough office cleanings and wearing appropriate PPE, you will be pleased to learn that your dentist is not working under the assumption of "business as usual." Instead, you will find they are actually seeing fewer patients each day and taking steps to minimize as much contact between patients and staff as possible.
If you want greater peace of mind when visiting the dentist, make sure to do the following:
Contact a member of your dental team and ask them about any safety protocols you should know and steps you can take at home to make your visit run more smoothly.
Maintain good oral hygiene while at home by brushing your teeth twice daily, flossing before bed, and using an ADA-approved mouthwash to eliminate as much bacteria as possible.
Give yourself extra time when seeing your dentist. In addition to seeing fewer patients, dental teams are also expanding appointment times to allow for extra treatments and more elaborate discussions, if necessary.
Trust that your dentist is taking all the appropriate precautions to keep you safe. If you are still concerned about an upcoming visit, talk to your practitioner about what you can do to avoid hindering your oral health.
About the Author
Dr. Douglas Baldwin wants you to feel safe and comfortable when returning to his office for dental work. Whether you need a regular checkup and cleaning or elective treatment, he and his team at Foundation Dental Solutions are taking added precautions to keep everyone informed about changes and guidelines as it pertains to staff-patient interaction. While the initial phase may present some challenges, we believe the steps we're taking will decrease the chances of contamination and the spread of COVID-19. To find out what we're doing to minimize risk, contact us at (817) 478-4300.