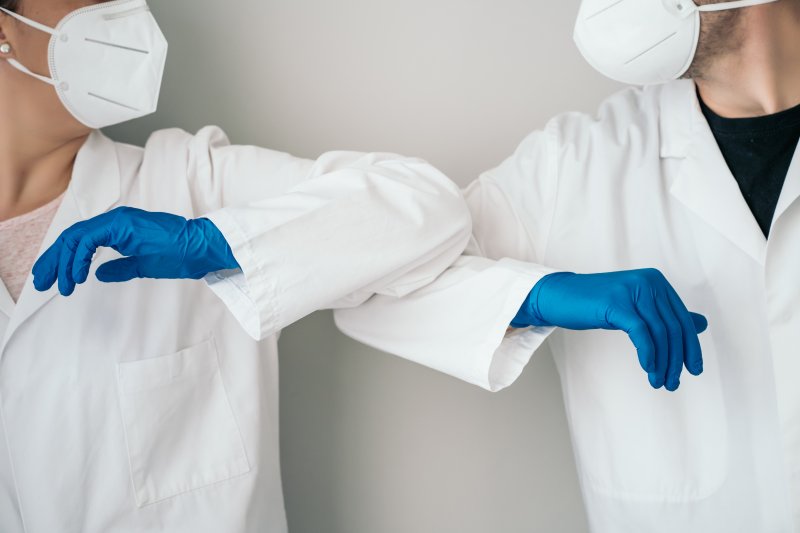 Social distancing is quickly becoming one of the most popular phrases of 2020. As COVID-19 remains a global threat, people are covering up more now than ever before. From wearing masks and gloves while shopping for groceries to coming together in small groups while remaining 6 feet apart, it's much more difficult to simply say "hello" to those around you. Not surprisingly, individuals are coming up with alternative techniques to greet others, including your dentist in Arlington, during this time. From an elbow bump to a simple air high-five, take a look at the few creative ways you can say "hi" during your next dental appointment.
Why Keeping Your Distance is Best
It may feel like second nature to walk up and give your dentist a high-five or handshake. Unfortunately, COVID-19 is forcing you to reevaluate the way you say "hello." But why? As a highly contagious virus that has and continues to spread throughout the world, health and state officials are strongly urging people to avoid contact with others as much as possible. Although believed to be passed most easily through bodily fluids emitted through coughing, sneezing, etc., these tiny droplets pushed into the air can infect someone in close proximity via their eyes, nose, or mouth.
While there is some debate regarding the transmission through touch, officials recommend individuals avoid normal greetings (i.e. handshakes, hugs, high-fives) as much as possible for now.
4 Ways to Greet Your Dentist and Team Members
As part of the new safety protocols your dentist is implementing, the next time you arrive, you will likely see everyone wearing appropriate personal protective equipment (i.e. gloves, protective eyewear, lab coats/disposable gowns, masks, and face shields). While this may seem like enough to prevent the potential spread of bacteria and viruses, dentists are asking patients to go one step further and avoid any handshakes or hugs right now.
Dentists must be able to work with their hands and although covered by gloves, it is necessary that these latex coverings remain as germ-free as possible.
So, what can you do to say "hello" and show your appreciation for their continued efforts to help you maintain a healthy smile? Here are a few contactless greetings you can use:
Teledentistry: If your dentist if offering teledentistry services, you can opt to receive a consultation via this new and innovative technological method. Although not as personal as an in-office visit, this will allow you to speak sans mask and remain healthy and safe at home.
Elbow bump: Replacing the traditional handshake, the elbow bump is being adopted by people all over the world as an alternative way to say "hello."
Namaste stance: Seen and used in yoga classes, this calm greeting allows you to keep your hands to yourself while the head nod serves to greet another individual.
Air high-five: If you or your dentist are pleased with the results of your checkup, don't be afraid to use an air high-five.
While these alternative solutions may not feel "natural," they offer you and your dentist a safer way to say hello for now.
About the Author
Dr. Douglas Baldwin understands the difficulty that can come with adjusting to change. COVID-19 is causing dental professionals throughout the country to implement new safety protocols that are designed to lessen the potential risk and provide a healthier environment for everyone. As health officials continue to encourage individuals to practice social distancing, Dr. Baldwin and his team will also work to minimize contact as much as possible. If you are preparing for an upcoming appointment and want to learn more about what you can do before you arrive, contact us at (817) 478-4300.