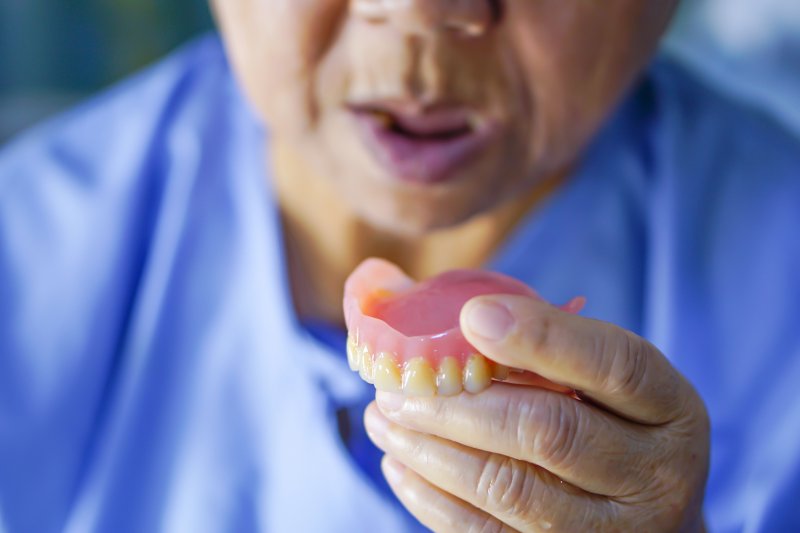 Being quarantined due to COVID-19 is bad enough. Add a broken denture into the mix, and you're looking at a worse situation than before. You might think that with everyone staying indoors, the chances of injuring yourself or causing damage to your smile would be less, but that's not always the case. Breaking your dentures can happen quickly with a simple slip of the hand while cleaning or biting down on something a bit too hard. Before this happens to you, spend some time learning what steps you can take to fix the problem and get back to enjoying your smile.
Tips for Proper At-Home Care
As a result of COVID-19, you may find yourself at home, under quarantine. If you are sick, you will be unable to leave your home for a minimum of 14 days, and if you're not sick, it is highly unadvisable for you to go further than your front or back yard. So, what can you do if you break a denture while at home?
First, it's always best to alert your dentist's office about the situation, whether you are able to come in or not. This will make them aware of what has happened as well as inform you about some helpful tips you can use to remedy the situation until you can come in.
You should:
Retrieve as many of the broken pieces as possible and make sure you bring them to your appointment whenever that may be
Not be afraid to use dental wax, as this can prevent rough, jagged edges from irritating your soft oral tissues (i.e. cheeks, lips, tongue, gums).
Avoid wearing your damaged dentures. Make sure you soak them.
While it might be tempting, avoid buying a home repair kit or using an over-the-counter glue. These can further damage your dentures and make it impossible for your dentist to fix. They can also be extremely harmful to your mouth.
How Your Dentist Can Help
While most dentist's offices are closed right now, it is possible that based on the severity of the problem, your dental staff may be able to get you in. If so, prepare to undergo a pre-screening process once you've been cleared of COVID-19. You can expect your dentist to take extreme measures to ensure both staff and patients are safe from possible transmission.
Once you are able to see your dentist, they will determine if it's possible to fix the denture or replace it. Depending on how you feel about the recommendation, don't be surprised if they suggest dental implants as an alternative solution. These will not only prevent this situation from happening in the future, but they will last much longer.
Although COVID-19 may be keeping you away from family, friends, and even your local dentist, trust that your dental team is continuing to help patients in need. If you or a loved one faces a dental accident at any time, don't be afraid to call.
About the Author
Dr. Douglas Baldwin received his education at University of Texas colleges in Arlington and San Antonio. Since earning his dental degree, he has spent years learning about innovative technologies to bring to his patients in North Texas. During this time of uncertainty, he and his team want you to know that although they are only seeing individuals with serious dental emergencies, it is possible to still receive the help and answers you need. Break a denture while under quarantine? Don't worry, contact us at (817) 478-4300. We will be here to walk you through the steps until you are able to get in to see us.