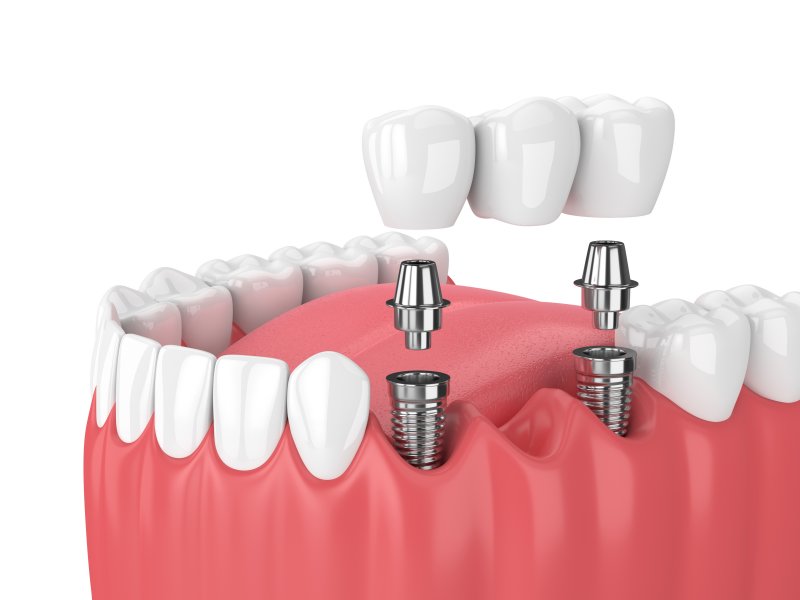 If you've recently received dental implants, you're probably feeling pretty good about the way you look and feel. Not only do you have a restoration that is permanent, but it also restores your smile, making it virtually impossible for anyone to tell the difference between your real and fake teeth! But then suddenly, something doesn't feel right and you're left wondering what could be wrong. While the success rate for dental implant placement is high, there is a chance it could fail. Find out the signs and symptoms and if you are in need of dental implant salvage in Arlington.
What Can Cause an Implant to Fail?
Before receiving your dental implants in Arlington, you and your dentist will discuss your oral and medical history. Why? This is important because there are factors that can play a pivotal role in the success of your dental implant placement. Some of these factors include:
Smoking: Smoking and tobacco can cause your implant to fail because of a few reasons. First, it restricts blood flow to your gums, and two, it weakens your immune system and makes it harder for your body to heal. This makes the osseointegration process, which is the fusing of the implant to the bone, nearly impossible. Without this process, your implant placement will not be successful.
Gum disease: If you have gum disease prior to having a dental implant placed, you can expect difficulties to arise. Gum disease that is left untreated can cause bone and tooth loss. Without enough bone density to support the implant and its restoration, there is no use in having them placed. Instead, you would need gum disease therapy as well as a bone graft to add supporting bone to the area.
Medical problems: Autoimmune disorders can make it more difficult for your body to heal, which just like smoking, interferes with the ability to for osseointegration to occur. When taking certain medications, make sure to tell your dentist, so they can determine if dental implants are the right solution for you.
Poor oral hygiene: If you are slacking on your brushing, flossing, rinsing, and regular visits to the dentist, this can significantly impact your dental implant success.
A surgeon who is ill-equipped to place an implant: Whether they don't know how to put in an implant or are unfamiliar with the process, this is the biggest red flag for possible dental implant failure. These titanium posts must be strategically positioned in order to hold up the restoration, so you want to make sure you choose someone who knows what they're doing.
How Can a Failed Implant be Treated?
While it depends on the severity of the problem, it might require your dentist to completely remove the implant, allow the area to heal completely, and start again. This is a serious surgical procedure, so nothing can or should be rushed. If your dentist believes you could benefit from having another implant put back in, you'll need to spend ample time healing from the failed process before moving forward with a replacement implant.
To prevent dental implant failure, there are a few things you can do, including taking proper care of your implants, visiting your dentist, ceasing smoking, and avoid bad habits that can damage your teeth. It's also important that you increase your calcium intake to support good bone health and strength.
Dental implant failure is extremely rare, so don't expect it to be a normal occurrence. In most situations, your implant procedure will be a true success, and you'll enjoy your new and improved smile for many years. But if failure does occur, don't lose hope. There are things you can do to address the situation and get your smile back on track.
About the Author
Dr. Douglas Baldwin received his education at University of Texas colleges in Arlington and San Antonio. Since earning his dental degree, he has spent years learning about innovative technologies to bring to his patients in North Texas. Studying at the California Implant Institute, he is knowledgeable and skilled with implant dentistry, and he strives to help patients achieve fully restored smiles with the help of dental implants. To learn more about Dr. Baldwin or the services offered at his practice, contact us at (817) 478-4300.