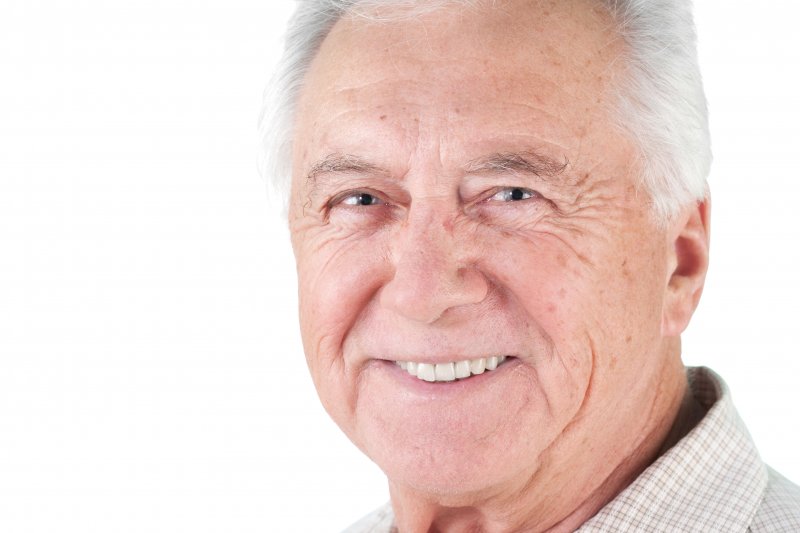 Dentures can be such a blessing. They allow you to eat a wide variety of foods, they give you a beautiful smile and they can give you the confidence you need to fully engage in life, both socially and professionally. Ideally, dentures in Arlington should fit snugly but comfortably along your gum ridge. Over time, however, they may loosen and not fit as well. Read on to learn what you and your dentist can do.
What Causes Dentures to Loosen?
There are several reasons why your dentures might become loose. In fact, some are quite natural. For example, denture wearers often experience bone resorption. This happens because your jawbone and your gums are no longer holding teeth in place. Consequently, these tissues begin to shrink, causing dentures to feel loose.
You can help to prevent bone resorption by stimulating your jaw. Use your dentures to chew solid foods, and your gums are more likely to remain healthy and strong. Be sure to eat a nutritious diet, too, which can also help you avoid bone resorption.
Everyday wear and tear can also loosen dentures. Take good care of your dentures. Clean them daily, and never sleep with your dentures in at night. This helps to preserve your dentures and gives your gums a rest.
What Are the Signs of Loose Dentures?
Here's how to know if your dentures are becoming loose:
Dentures slip and don't fit snugly
They are uncomfortable
Dentures click when you talk or chew
You've noticed sores on your gum tissue
What Can Be Done About Loose Dentures?
Dentures can be relined or rebased to ensure a proper fit. With relining, a dentist adds new material to the underside of your denture base so that your prosthesis fits well again.
Rebasing replaces the base but uses the same false teeth. If your denture base is cracked, does not fit well, or needs other repairs—but the teeth remain in good condition—then a rebase may be the ideal solution.
The new base will fit more comfortably and extend the life of your dentures.
What About Dental Implants and Dentures?
For the most secure dentures, consider securing them with dental implants in Arlington. The implants will hold your dentures in place and substitute for your missing tooth roots, so you are less likely to face the trouble of bone resorption, too.
You don't need to endure uncomfortable or loose dentures. As soon as they begin to bother you, call your dentist to schedule a visit. A simple repair can have you feeling confident in your smile again. 
Meet the Doctor
Dr. Douglas Baldwin is a dentist in Arlington, Texas. He and his team provide a complete menu of general and restorative services to patients of all ages, including dentures to rebuild your smile. Call Foundation Dental Solutions today to schedule an appointment.