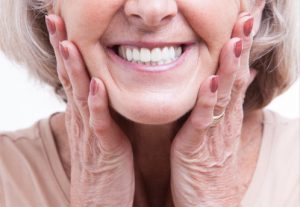 When you first receive your dentures in Arlington from Dr. Baldwin, we take extra care to provide a custom fit. We also make any adjustments to ensure the fit is perfect. And while your dentures will look completely natural, there are a couple of things they cannot do, such as react to changes in the shape of your mouth or repair themselves in case of breakage. In either of these instances, you need to return to your dentist in Arlington to take proper care of your dentures.
Ill-Fitting Dentures
Over time, you jaw and gum lines change little by little. Consequently, dentures may begin to feel loose. You may notice that your gums are slightly irritated or that chewing is uncomfortable. Sometimes, Dr. Baldwin sees signs at your regular dental checkups even before you feel a problem.
When this happens, we can fix the problem by relining, rebasing or creating a new denture. Relining requires adding a new surface material to the base while rebasing replaces the entire denture base. Dr. Baldwin will be able to recommend the best solution for you.
Fixing Broken or Damaged Dentures
Caution: denture repair is not a DIY project! You should never attempt to repair broken or damaged dentures on your own with a store-bought glue. These may contain chemicals that could be harmful to your health and, therefore, should not be used to repair dentures even temporarily.
The best option is to schedule an appointment with your dentist. Whether your dentures are damaged as the result of being dropped on a hard surface (hint: always lay a towel on the counter underneath dentures) or normal wear and tear has altered them, they are likely fixable. Simple damage can sometimes be fixed the same day in the office. However, more complex repairs will likely need to be sent out to a dental lab.
Damage to Implant-Retained Dentures in Arlington
Implant-retained dentures are not immune to damage. Teeth grinding or clenching can cause these prosthetics to loosen or break. In this case, the tooth restoration may be loose or the implanted post could become unsteady in your jaw. Whatever the trouble, you need to see your dentist.
Dr. Baldwin and his staff are dedicated to making sure your dentures fit comfortably and beautifully. Don't hesitate to call the office if your dentures are giving your trouble. We will make the necessary repair to ensure that your smile is perfect once again!
Meet the Doctor
Dr. Douglas Baldwin is a family and cosmetic dentist in Arlington, Texas. He and his team provide a complete menu of dental services to patients of all ages. Call Foundation Dental Solutions today to schedule an appointment.