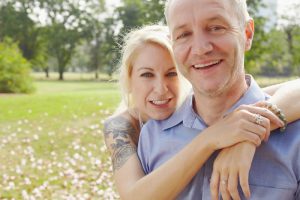 Having a dentist you actually look forward to visiting can make all the difference in your quest for a healthy, long-lasting smile. If you are searching for a new dentist in Arlington, we've got some great news. There has never been a better time to check out why your friends and neighbors love Foundation Dental Solutions! Right now, we are offering all first-time visitors special savings — you can enjoy a comprehensive exam with X-rays for just $79! Keep reading to find out more about this great deal.
Comprehensive, Quality Services
Our team is pleased to offer a wide range of treatments to meet the needs of patients of all ages. From general checkups and cleanings to dental implants, innovative dentures, and treatment for sleep apnea and snoring, we really do it all!
Dr. Baldwin is especially experienced in providing comprehensive restorative dentistry treatments for patients of Foundation Dental Solutions. He has dedicated himself to the practice of rebuilding smiles after tooth loss — because he knows that the secret to living a happy, fulfilled life is having a complete and sturdy set of teeth.
Some of our restorative solutions include…
Dental crowns and bridges crafted out of the highest quality sturdy materials

Dental implants, a comprehensive solution for missing teeth

Simply Stunning Dentures, a special denture developed by Dr. Baldwin himself!
In addition to providing the very best general and restorative treatments, our office is also a wonderful place for patients who may be a little nervous or uneasy visiting the dentist. We offer three options in sedation: nitrous oxide, oral conscious sedation, and IV sedation to help you really relax in the dental chair.
We Love New Patients!
Entrusting your smile to the same dentist is important for receiving the most informed care — but you shouldn't just go back to the same dentist again and again because you don't have the energy to find another one. We know that after one visit to our office, you'll see the difference that excellent dental care can make.
And don't forget that we are so confident in our exceptional dental experiences we are now offering an exciting new patient special!
For just $79, patients of all ages can receive a comprehensive dental exam including X-rays at Foundation Dental Solutions.
When was the last time you actually looked forward to visiting the dentist? If the answer is "I'm not sure" or "never," it's time to change that. Please do not hesitate to get in touch with our office to take advantage of this exciting special!
About the Dentist
Dr. Douglas Baldwin is a general dentist providing comprehensive dental care for patients of all ages in and around Arlington. Your dentist is committed to offering personalized dental care suited to each patient's individual needs. To learn more about his services or to take advantage of this sweet deal, you are invited to contact the office at 817-478-4300.