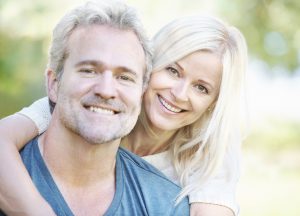 Dentures can make all the difference in the world for someone with missing teeth. They look better, they feel better and they are able to enjoy a variety of foods again.
But one thing no one enjoys is bad breath, or halitosis. And don't think that just because you're wearing dentures means that you're immune to a foul order in your mouth. Bad breath is caused by bacterial growth, and dentures are just as susceptible to this as your natural teeth.
Do My Dentures Smell?
Good question. Here's an easy way to find out.
Rather than risk asking a friend or relative if you have bad breath, remove your dentures and place them in a sealed plastic bag. After a few minutes, open the bag and take a sniff. If there is an unpleasant odor then your dentures may be part of the problem.
Why Do My Dentures Smell?
Just the way bacteria get trapped between teeth and along the gum line, they can also get stuck in the nooks and crannies of dentures. If not removed with regular and thorough cleaning, bacteria reproduce and accumulate on your dentures, causing a foul odor to develop.
Also, if you have a dry mouth—which can be an issue for denture wearers, because they tend to produce less saliva—then this can also lead to bad breath. Saliva keeps the mouth moist, but a dry mouth is the perfect breeding ground for offensive bacteria.
Finally, if dentures don't fit properly, then they may irritate delicate gum tissue. When this happens, a sore or infection can ensue and this can contribute to denture breath, too.
How Can I Cure Denture Bad Breath?
There are some steps you can take to stop your dentures from causing bad breath:
Clean your dentures everyday. Use your denture brush and cleaner to thoroughly clean your dentures every night. In addition, be sure to brush your mouth—gums, tongue, cheeks and palate—with a soft toothbrush and toothpaste.
Soak your dentures every night. Never wear your dentures while you sleep. Rather, soak them in a denture disinfecting solution that gets rid of bacteria. Soaking also helps to keep them supple.
Rinse after every meal. Remove your dentures and use an anti-bacterial mouthwash to rinse away any food particles that are trapped between dentures and your gum tissue. A quality rinse will help prevent bacteria accumulation in your mouth. You can also use a mild saltwater solution to rinse.
Schedule regular checkups with your dentist. Just because you're wearing dentures doesn't mean you no longer need to see the dentist. Your dental healthcare team will make sure your dentures fit properly and ensure the health of your entire oral cavity.
Dr. Douglas Baldwin is a family dentist in Arlington, TX. He developed the denture system called Simply Stunning Dentures in order to provide patients with smiles that are as functional as they are beautiful.