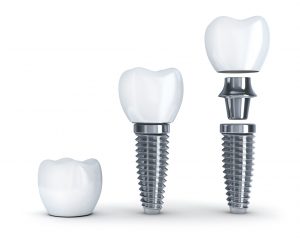 Tooth loss is truly devastating. Difficulty chewing, slurred speech, and poor smile aesthetics lower your quality of life. Your solution could be implant-retained dentures from your dentist in Arlington,
Dr. Douglas Baldwin. He has studied at the well-known California Implant Institute and offers a wide range of dental implant solutions, including implant-retained dentures. He restores smiles to their best function and appearance.
What are Dental Implants?
Dental implants are true artificial teeth which reside right in the patient's jaw bone. A single dental implant is made of a titanium screw, metal extension post, and porcelain crown. The screw melds with the jaw bone through a natural process called osseointegration. Osseointegration is what makes dental implants succeed almost 98 percent of the time. Also, it makes them so secure that they stay in place for decades.
Dentists, such as Dr. Baldwin, use dental implants to support and retain partial and full dentures in Arlington.  Patients who have good oral and systemic health and possess sufficient jaw bone generally qualify for implant-retained dentures.
The Treatment Process
Dr. Baldwin qualifies patients for dental implants and implant-retained dentures by:
Careful oral examination
Cone Beam CT scan (for a precise image of underlying bone structure)
In addition, Dr. Baldwin asks his implant patients to practice good oral hygiene habits (brushing, flossing and six-month exams and cleanings) and to refrain from smoking if possible.
If someone is a good candidate, he or she can expect the treatment and placement process to take several weeks to months. This timeline allows for placement of the implants, for healing, and for fabrication and fitting of the dentures.
 Placement of Implant-retained Dentures
Dr. Baldwin formulates a treatment plan specific to the individual's needs and preferences. There are two kinds of implant-retained dentures:
Ball and socket dentures These appliances affix to several implants which are shaped like spheres. The dentist places the implants during an in-office surgery and depending on the case, may fit a temporary denture for use during healing. Ball and socket dentures are full dentures. They replace an entire arch of teeth.
Bar-retained dentures feature a thin metal bar shaped like the curve of the jaw. Used more as a partial denture, this appliance clips right onto the bar and is very secure.
Living with Implant-retained Dentures
While nothing can match your natural teeth, dental implants come close. Patients enjoy a youthful facial appearance, stable eating and no slippage of dentures when they speak. Typically, individuals have few to no sore spots or other oral irritations with these dentures, and the jaw bone keeps its size and density because the implants exercise the bone each time the patients exerts pressure on the dentures.
How Can We Help You?
If your traditional dentures are bothering you, or if you have not addressed the issue of missing teeth, please contact Foundation Dental Solutions for an appointment with Dr. Baldwin. He will help you achieve a smile that looks great, feels good and functions exceptionally well.