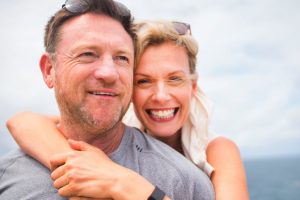 If you're like most people with missing teeth, you'd give just about anything to have them back. It'd be so much easier to not have to think about them whenever you want to talk or eat. One of the best solutions to this exact problem are dental implants. Today, Dr. Douglas Baldwin is going to answer the most common questions about getting dental implants in Arlington, and share why they are one of the most complete and reliable ways to fill the gap in your smile.

1. What Can Dental Implants Fix?
Dental implants are used to replace missing teeth, and can do so in multiple ways. They can replace a single tooth, anchor a fixed-bridge, or even support a set of dentures.
2. What Are Dental Implants?
Dental implants come in three parts: a titanium post, a porcelain crown, and an abutment.
The titanium post is what makes dental implants so special. It is actually able to replace the root of your missing tooth, which is unlike any other restorative procedure. Not only does it securely hold your tooth (or bridge, or dentures) in place, but it also ensures the long term health of your mouth by preventing bone loss once a tooth is lost.
Dental implants are usually topped with a porcelain crown. It is made of porcelain because the material looks natural and is incredibly strong. It will seamlessly blend into your smile while giving you a tooth you can rely on day to day.
These two parts are then held together by a connector called an abutment.
3. Is It Really Important to Replace My Missing Teeth?
Your teeth work as a team, and a single missing tooth can lead to a variety of problems. Often, your remaining teeth will drift into the empty space, which can cause them to become crooked and affect the alignment of your jaw. Plus, missing teeth can make it difficult to eat nutritious foods like proteins and fibrous vegetables. This can severely limit your nutrition, which can easily cut up to 10 years off of your life. Basically, making sure your smile is complete not only helps your appearance, but your overall health as well.
4. What Is The Procedure Like?
The implant procedure can be broken down into two main phases: placement and restoration.
For the first phase, Dr. Baldwin will surgically place the titanium post (or posts) into your jaw, and will top it with a temporary crown, bridge, or set of dentures. You will then be given a few months to heal, after which you will return to our office to have your final restoration placed. The specific timeframe of your healing period is dependent on your particular situation, but we will make sure that you have teeth at every point of your treatment so you can smile confidently.
5. How Are They Maintained?
One of the biggest advantages of dental implants is that they don't require a special routine. You simply need to brush and floss them every day like your regular teeth, and they can easily last for decades.
6. Are They Right For Me?
If you are interested in replacing your missing teeth or getting a more secure set of dentures, dental implants may be right for you. You need to be in good overall health (as in you shouldn't have uncontrolled diabetes or other serious medical conditions), and need to have an adequate amount of healthy jawbone to support the implants. To determine this, we will use sophisticated 3D imaging technology. If you do not have enough healthy jawbone, we may need to perform a bone graft before you are ready to get dental implants.
7. Is There An Age Range For the Procedure?
We recommend dental implants for anyone 18 or older looking to complete their smile. There is no upper age limit, so it is never too late for you to restore your smile.
8. How Much Will It Cost?
This will depend on how your implant is being used (single tooth, bridge, or dentures). They can be extremely affordable if you choose to finance them through CareCredit or Lending Club. For example, you can replace a single tooth for as little as $80 a month.
9. Will My Insurance Cover It?
This will depend on your dental insurance policy. Some policies offer excellent coverage for dental implants while others exclude implant services. Make sure to review your plan and consult your insurance provider to clarify so you know exactly what to expect. We're always willing to help you with this.
10. Why Should I Get Dental Implants at Foundation Dental Solutions?
What makes us different is that we will look for the best solution for you, even if that consists of not getting dental implants. The entire goal of dental treatment is to give you a beautiful smile that functions properly, and implants are not the answer for everyone.
Also, Dr. Baldwin, your dentist in Arlington, is able to complete both phases of the procedure himself. Many other practices can only complete the restoration phase, meaning that they have to shuffle you off to a different office to have them placed. We help streamline the entire process for you by giving you everything under one roof.
More Questions?
Hopefully this answered most of your questions! Dental implants have been restoring people's smiles for decades, and are becoming more common as the procedure becomes faster and easier.
If you have any other questions about dental implants and how they can help your smile, please call us today.