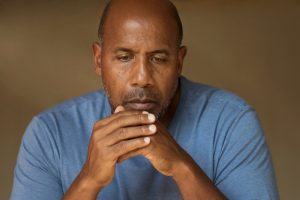 Embarrassment, frustration, and self-consciousness are just a few of the feelings you encounter on a daily basis when you live with one or more missing teeth. You may have difficulties eating and chewing the food you normally enjoyed. You may feel embarrassed about talking and smiling in front of others, however did you know your oral health is also in jeopardy when you have a missing tooth? The good news is that dental implants may be the right solution for you, and it's time you learned if you're a good candidate for dental implants in Arlington. Dr. Douglas Baldwin can help!
How Missing Teeth Affect Your Oral Health
Without a replacement tooth and root, you'll begin to experience bone resorption and shifting of your remaining teeth. A root keeps your jawbone healthy and stimulated, while a tooth keeps your existing teeth aligned correctly. When your bone deteriorates it puts you at risk for gum disease and more tooth loss, not to mention changing the appearance of your face. When your teeth shift it puts them at risk for fractures and other damage, and a misaligned bite can contribute to a jaw joint disorder known as TMJ.
What is a Dental Implant?
A dental implant utilizes a biocompatible titanium post that is surgically placed in your bone to create a stable foundation for your new porcelain crown. There's a healing period after your implant surgery that allows your bone time to integrate with your implant. When it's ready your dentist will customize your crown to match your existing teeth and complement your smile.
An implant closely mimics your natural tooth, as you will have the same appearance and function that you enjoyed with your own tooth. It's easy to care for and you'll be able to brush and floss as you were always used to. Implants are reliable and durable, and with the right home care and regular dental check ups you can expect your implant to last for many decades.
Multiple Missing Teeth
Dental implants can also be used to support dental bridges, partials, and dentures, for patients who are missing multiple teeth, or all of their teeth. Implants are offering denture wearers a much more stable and secure fit than ever before, so there is no movement or slippage when you talk, eat, or smile.
At Foundation Dental Solutions, Dr. Baldwin can determine if you're a candidate for dental implants with a thorough examination and x-rays. Implants do require that you have enough healthy bone structure to support them, and that the patient is in good overall health. Dr. Baldwin has the knowledge and expertise to guide you through implant treatment from start to finish. Give us a call today to learn more about how we can help you restore your smile.