Cost of Dentures – Arlington, TX
Affordable Tooth Replacement Options
What if we told you that you could restore your confidence as well as your ability to eat and speak comfortably for less than a dollar a day? Would it be worth it?
If you're currently dealing with multiple missing teeth, then this probably sounds like a bargain.
So what does this cost actually get you?
For less than the cost of a cup of coffee per day, you can get a completely custom-made affordable denture that will fully restore your smile. Often, when talking about the cost of dentures in Arlington, TX, people neglect to consider the daily benefits they provide and rather just focus on the entire price. Dentures shouldn't be thought of as just an expense—they are really a valuable investment in your long term health and quality of life.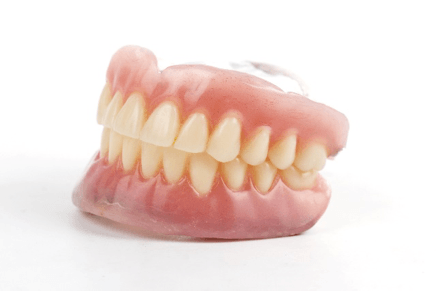 The appearance of your smile is a big deal, and you don't need us to explain that to you. Suffice it to say, when a denture gives you all of your teeth back, the social benefits can be tremendous. Many of our patients simply stopped smiling for pictures over the years because they were too self-conscious about their missing teeth, but thanks to a denture, they finally felt comfortable to be themselves again.
Replacing your missing teeth, of course, isn't just great for your looks, but your overall health as well. People with missing teeth often have difficulty chewing many kinds of foods, and this can cause them to limit their diet to softer, less nutritious items. Over time, this can actually lead to malnutrition, which can shorten a person's life expectancy significantly. This is in addition to preventing many people from simply enjoying their favorite foods, turning meal time into more of a chore than something to enjoy.
When considering that dentures can help you avoid all of this, their relatively low cost seems like more than worth it. There are multiple types of dentures designed to help with varying degrees of tooth loss, so we're going to discuss all of them and let you know how much you can expect to pay.
Cost of Full Dentures
Full dentures are intended to replace an entire row of missing teeth, and they are what most people think of when you mention the word "dentures."
On average, a well made denture will cost about $1,200. This price can vary depending on a number of factors, including the quality of the materials used to make the dentures as well as the level of customization desired.
While this might seem expensive, bear in mind that a quality set of dentures is expected to last about 5-7 years. That's 5-7 years of being able to smile, eat, and speak comfortably every single day. When you break down the price on a day by day basis, a denture that last for 5 years will only cost you about 65 cents a day. That's certainly worth being able to smile with confidence and NOT having to worry about your teeth.
Cost of Partial Dentures
Partial dentures are used to replace multiple missing teeth when a person still has some remaining. It basically fills in the gaps like the missing piece of a puzzle.
Because no two partial dentures are completely alike, the price can vary quite a bit, ranging from $300 to $1,500 depending on a patient's specific tooth loss. This variance can mostly be attributed to situational factors as well as the quality of the denture itself. When broken down to a daily cost, even a high-end partial denture that lasts for 5 years is only 82 cents a day.
With partial dentures, small metal clasps are used to hold them in place, and this often can put pressure on the teeth and cause the gums to become more sensitive. This is why many dentists, including our own Dr. Baldwin, often suggest that patients with some remaining teeth replace their missing ones with dental implants. They provide long-lasting, natural-looking results without affecting the surrounding teeth, and they also last much longer than a partial denture.
However, they can also be used to support the next level of dentures…
The Cost of Dental Implant-Retained Dentures
Implant-retained dentures use dental implants to hold them in place rather than metal clasps, natural suction, or denture adhesive. The implants anchor the denture directly into the jawbone just like natural teeth, which gives them a strength and stability much greater than a traditional removable denture.
Between the implant placement procedure and the dentures themselves, the cost of an implant-retained denture can range from about $5,000 to $6,000. While this is much more than a traditional denture, like with everything in life, you truly get what you pay for.
Along with being much stronger and more stable than a traditional denture, implant-retained dentures also maintain their fit for much longer because the implants help the jaw maintain its shape and strength over time. They even enable a patient to have a bite force much more similar to real teeth, giving them the ability to eat just about anything with ease. They also have the advantage of being fixed as opposed to removable. Altogether, they provide the strongest, longest-lasting, and most natural-looking results of any denture.
So let's pretend that you decide to get the absolute best denture that money can buy. They look and feel just like your real teeth, and you never have to worry about them slipping or sliding out of place. If they last for 5 years, how much will they cost you per day?
Only $3.
That's $3 that allows you to speak normally, eat whatever you like, and smile without worry. They don't sound too expensive in those terms, right?
Of course, you may still be concerned with cost, but don't worry, Foundation Dental Solutions has multiple ways to help make your dentures even more affordable.
Your Key to Making Dentures Affordable
At Foundation Dental Solutions, we believe that all of our patients should be able to receive the best quality care without breaking the bank, which is why for our denture patients, we have a variety of ways we can help reduce the overall cost. They include:
Dental Insurance: Our dental office works with all PPO dental insurance plans. Most plans partially cover restorative procedures like dentures, and with our team of experts, we'll make sure you get the absolute most out of your benefits.
Third-Party Financing: If you currently do not have insurance, we are also happy to offer low-to-no interest payment plans with CareCredit and Lending Club.
Final Thoughts
Investing in yourself always yields fantastic rewards, especially when you invest in your health, and that's exactly how you should think of dentures. For most people, they only cost dollars a day (if that), and they provide years of benefits that drastically improve their quality of life.
If you're hoping to replace your missing teeth, please contact us today for a consultation. At this appointment, Dr. Baldwin can give you a better idea of what your dentures will cost, and then you can discuss your financial options.
Please let us know if you have any questions! We're always willing to help you better understand your dental care.