Advanced Dental Implant Procedures – Arlington, TX
Restoring Your Confidence and Smile Once Again
Dental implants are a superior solution that should be available to anyone, no matter the situation. Unfortunately, when a patient has a weakened jawbone, some dentists suggest they seek alternative solutions such as traditional dentures or partials. Instead of settling for something you don't want, let our team at Foundation Dental Solutions perform advanced dental implant procedures in our Arlington, TX dental office. Whether you're in need of a bone graft or a sinus lift, we can get you on the path to successful dental implant placement. If you're ready to find out more about these two procedures and how you can improve your chances of becoming eligible for dental implants, contact us today to schedule a consultation!
Bone Grafting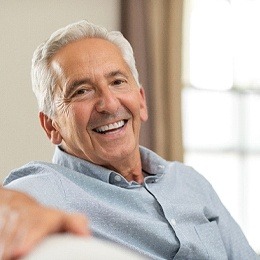 Patients who have a weakened or deteriorating lower jawbone can find that a bone grafting procedure will be helpful in preparing for dental implant placement. Research has shown that the only way a dental implant can successfully thrive and last as long as they do is by ensuring they are placed securely within the jawbone. This process makes that a reality for individuals who were once told they were ineligible for dental implants.
Our team of dentists can use a special bone grafting material or bone minerals from another area of your body to place in the weakened area. This will encourage your body to rebuild more bone and ultimately, strengthen the foundation that is necessary to uphold a dental implant.
Other forms of grafting material that are commonly used include:
Other human bone (i.e. cadaver, bank bone)
Dentin graft
Bone from other animals (i.e. pig or cow)
Depending on how much bone is lost, as well as your own personal preference, we will decide which method of bone grafting to use.
The average procedure time is between 45-90 minutes, and you can expect to have an initial recovery time of two weeks.
Sinus Lifts
If it's your upper jaw that is proving too weak, not to worry! Instead of performing a bone grafting procedure, we will perform a sinus lift. The upper back portion of the mouth is one of the hardest areas to place dental implants. With less bone density and closeness to the sinuses, it makes it a particularly tricky area.
If any of your upper teeth need to be removed, you'll find that your maxillary sinuses, which are located immediately behind your cheeks and above your upper teeth, can often be left with very little bone. By raising your sinuses and incorporating additional bone minerals into this gapped area, it will encourage the bone to grow into the floor of your sinuses.
Having a sinus lift performed before dental implants has proven extremely successful for many patients, many of whom experienced very little discomfort after having their sinus lift procedure.
No matter if you have a bone graft or sinus lift, you can expect the recovery time to be an estimated 3-6 months. Once you're fully healed, you'll be ready to move forward with dental implant placement.