Single Tooth Dental Implant – Arlington, TX
Restore Your Smile with a Lifelike Replacement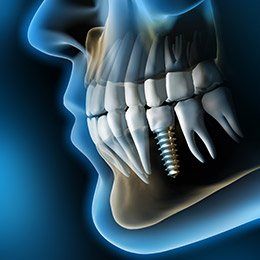 Unless you're a child that is eagerly waiting for the Tooth Fairy to arrive, tooth loss is not fun. A single missing tooth can negatively impact both your oral and general health, to say nothing of your confidence and self-esteem. Orally, tooth loss increases the risk of gum disease, cavities in your remaining teeth and additional missing teeth. That one missing tooth may restrict your ability to enjoy the foods you love and need for nutrition, too. Therefore, replacement is very important. A single tooth dental implant in Arlington is an excellent choice because it performs and looks just like a natural tooth.
What Is It?
A single tooth implant is a prosthetic that imitates the natural structure of a tooth. The implant substitutes for a tooth root, and a porcelain crown stands in for the visible portion above the gum line.
How Does It Work?
The implant itself is surgically embedded in your jawbone beneath the open socket of a missing tooth. Once the implanted post and surrounding bone integrate, the abutment and porcelain crown are attached.
What Are the Benefits?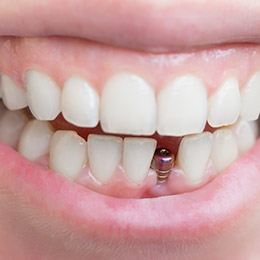 Other replacements such as a partial denture or bridge rest on top of your gum ridge and only substitute for a tooth's crown. A dental implant, on the other hand, replaces the entire missing tooth from root to crown. In this way, an implant is the most lifelike tooth replacement that remains rigidly set.
In addition, an implant is surgically positioned in your jawbone. Therefore, it works to maintain your facial structure. When a tooth is lost, there is no root to stimulate new bone tissue growth. Consequently, your jaw may shrink, making you look drawn and more aged.
What are the Indications?
Most patients qualify to have dental implants in Arlington. However, there are some basic ground rules. You must be in good overall health, because implants require minor oral surgery. Dr. Baldwin will also need to perform a thorough dental exam, including a close look at your teeth and gums.
How Do You Care for Dental Implants?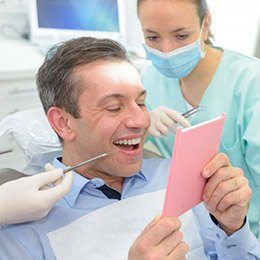 Caring for dental implants requires the same oral hygiene you give your natural teeth. Brush at least twice a day and be sure to floss well around your implant-supported tooth. And don't forget to schedule regular dental checkups with your implant dentist in Arlington.
How Long Do Implants Last?
With proper care, dental implants can last for decades. In fact, many people enjoy these replacement teeth for a lifetime.
To learn more about dental implants in Arlington or to schedule a consultation with Dr. Baldwin, call the office today.