Advanced Dental Implant Technology – Arlington, TX
Using the Latest Tools to Restore Smiles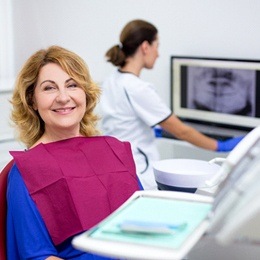 For more than 30 years, dental implants have been the superior method of tooth replacement. Dentists all over the country have been finding new and faster ways to restore patient smiles, and thanks to the advancements in technology and in the field of dentistry, placing dental implants has become easier, more convenient, and much more accurate. From the use of a Cone Beam Scanner to using a digital image to place the implant prior to surgery, Dr. Baldwin with Foundation Dental Solutions can ensure a safe and successful procedure. To learn more about our advanced dental implant technology we use in Arlington, TX, contact our dental office today.
Cone Beam Scanner
A 3D Cone Beam Scanner allows Dr. Baldwin to see a complete and full view of your teeth, neck, and face. Essentially, the scanner moves quickly around your head, taking high-quality images that are used to properly diagnose and treat a particular problem. With regard to dental implants, the cone beam scanner can provide your dentist with a more in-depth view of your bone density, surrounding teeth and tooth roots, and even the relationship between your teeth and nerves. All of this is important information when considering dental implants, especially your bone.
If your jawbone does not have enough strength to create a solid foundation, your implants will be much more likely to fail. Now that Dr. Baldwin can view the density of your bone prior to surgery, he can make a necessary recommendation for a bone graft or sinus lift, should he believe you require it.
When using the machine, you will be instructed to either sit or stand and gently bite down on a small plate that is attached to the machine. Within seconds, the scanner will rotate around your head, taking necessary images. The entire process is completely painless.
Guided Dental Implant Surgery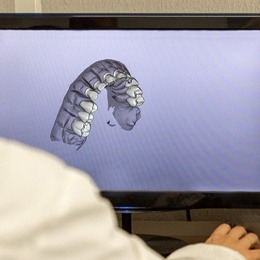 Using the images generated with the Cone Beam Scanner, Dr. Baldwin can then use special software to take the data and create a 3D model of your jaw. The reason for this is to ensure everything is correct and ready for the day of surgery. By creating a virtual model of your jawbone, he can do everything necessary, including rotate, operate, and measure, to ensure proper implant placement.
The software allows Dr. Baldwin to place dental implants into the virtual jawbone, determining the best position with the highest level of accuracy. At any point, he can manipulate the image to make changes or take a different approach.
Once the model mimics exactly what Dr. Baldwin will do during the procedure, he will create a guide, which he will use during surgery. It will also serve to help the dental lab technicians create custom-made restorations that will live on top of the implants. Depending on your case, your prosthetics may be placed the same day as your implants or after you've spent several months healing at home.
This type of technology allows your dentist to be more precise when it comes time to replace your missing teeth.