Dental Implant Frequently Asked Questions – Arlington, TX
Get Answers to Commonly Asked Questions about Dental Implants
What are Dental Implants?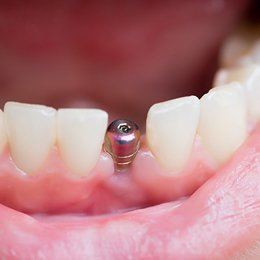 Dental implants are tooth replacements that stand in for the root and crown of a missing tooth. Each implant consists of a small screw made of titanium that is surgically placed in your jawbone, an abutment just above the gum and a dental crown, bridge or denture.
How are Dental Implants Placed?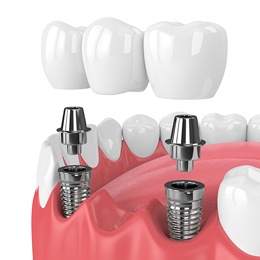 As dental procedures go, placing an implant is typically no more difficult than having a cavity filled. After a local anesthetic numbs the site, a small incision is made in your gums. Then, the implant is positioned in your jaw to take the most advantage of bone density. A protective cap is placed over the implant to shield it during the process of osseointegration—when the implant and surrounding bone bond together. The cap also maintains the shape of your gum tissue, which makes attaching replacement teeth easier.
How Long is the Healing Process for a Dental Implant?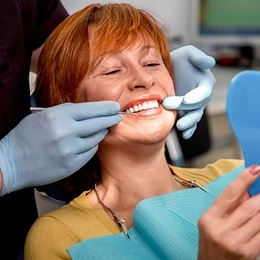 After your oral surgery, your gums will heal in just a matter of a few weeks. Osseointegration takes much longer. During this time, the implant and bone fuse together. As the bond grows, the foundation for your eventual tooth restoration becomes stronger and stronger. The entire healing process will take three to six months depending on how many dental implants you received.
How Many Dental Implants Do I Need?
That all depends on how many teeth need to be replaced and which teeth. If you are missing one tooth or two consecutive teeth, then a single implant is usually enough to support one or two dental crowns. For several teeth in a row, a fixed bridge is designed and supported by two implants at both ends. Finally, for patients that are missing many teeth or are edentulous (missing all of their teeth), three to six dental implants will be needed to firmly hold a denture in place.
How Much Do Dental Implants Cost??
There are many factors that influence the final cost of a dental implant, but the average cost is around $2,000. Yes, implants cost more than a bridge or denture, but the up-front cost is a worthwhile investment when you consider the longevity of implants. A denture, on the other hand, will likely require adjustments and eventual replacement. If you have dental insurance, check to see if a portion of the cost of dental implants is covered.